Startups
37 SaaS Tools to Help you Grow Faster
Discover 37 of the best SaaS tools to help grow your startup. Being a founder is hard work, these best SaaS software tools will make your work life easier.
---
Building a startup is one of the most fun and rewarding things you can do in business. With so many tools and SaaS platforms available, it can be daunting to know where to start and understand the best SaaS tools which are right for you to support your growth.
In this guide, we take a comprehensive look at some of the best startup software tools, free plans, and cool software to help you launch, run, manage, market, collaborate, scale, and measure the success of your startup.
We have pulled on the experience of 100s of startups in this guide and asked for their feedback on software tools they have used when building their startups.
37 Best SaaS Tools in 11 Categories
Navigate directoly to your category here, or browse through tool by tool:
Best Startup Bank Accounts
In this section, we highlight 3 of the best alternative banks for startups. However, it is worthwhile to consider all your options before deciding on the best bank account for your startup, the rise of the FinTech industry and alternative banking has given us more choices as startup founders, but if your startup has complex banking needs or a high reliance on international payments it may be worth considering one of the more traditional banks like Barclays, HSBC or Santander.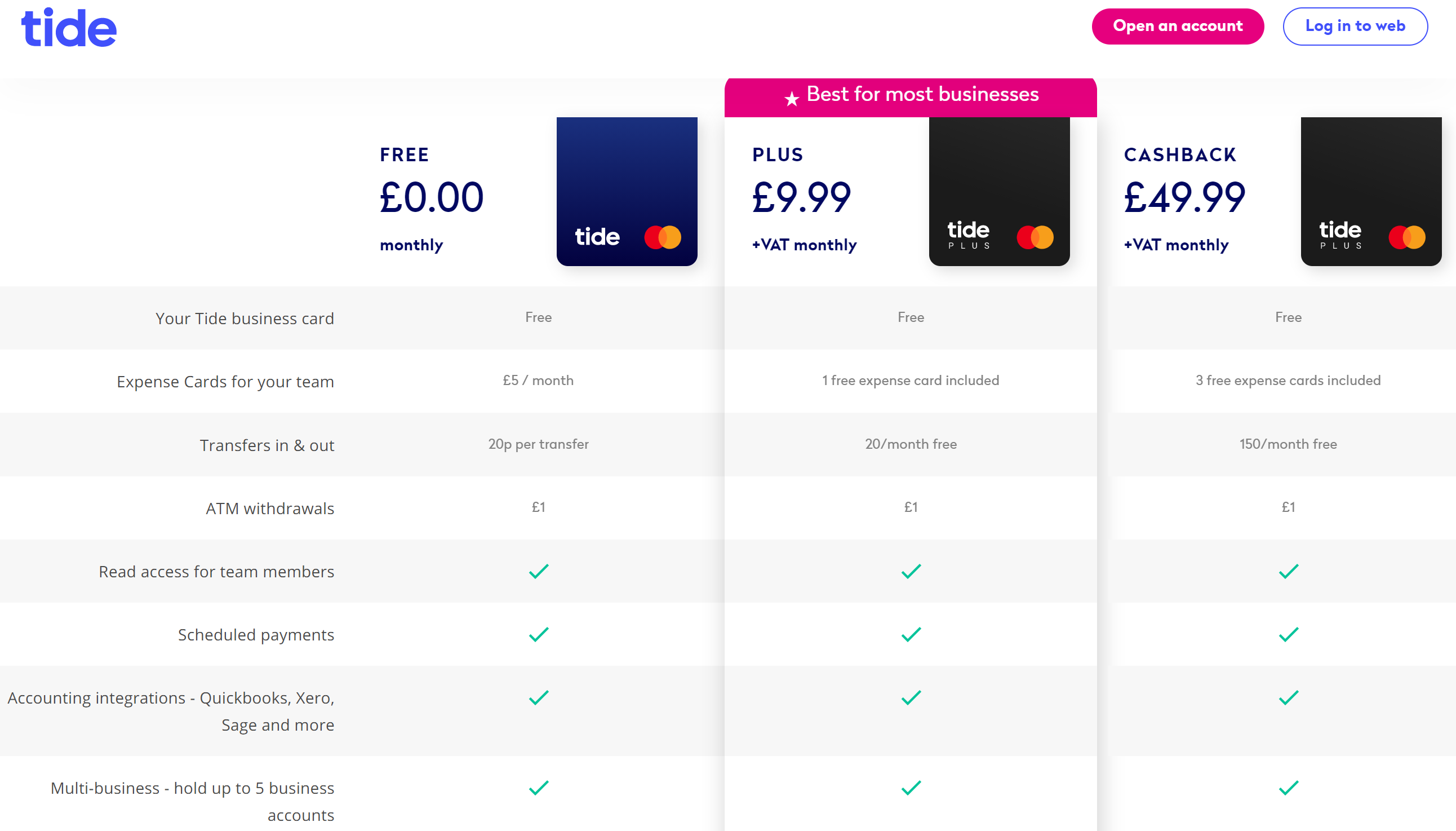 Tide gives you access to a business bank account on the move, creates customized invoices, integrate with your accounting software, and manages expenses all in the Tide app. Spend less time on admin and more time doing what you love.
Our network of startup founders has said "Tide has had a torrid time with some reviews over the last few years, but all in all it is a simple business bank account for startups with simple bank needs".
Free Plan – Yes
---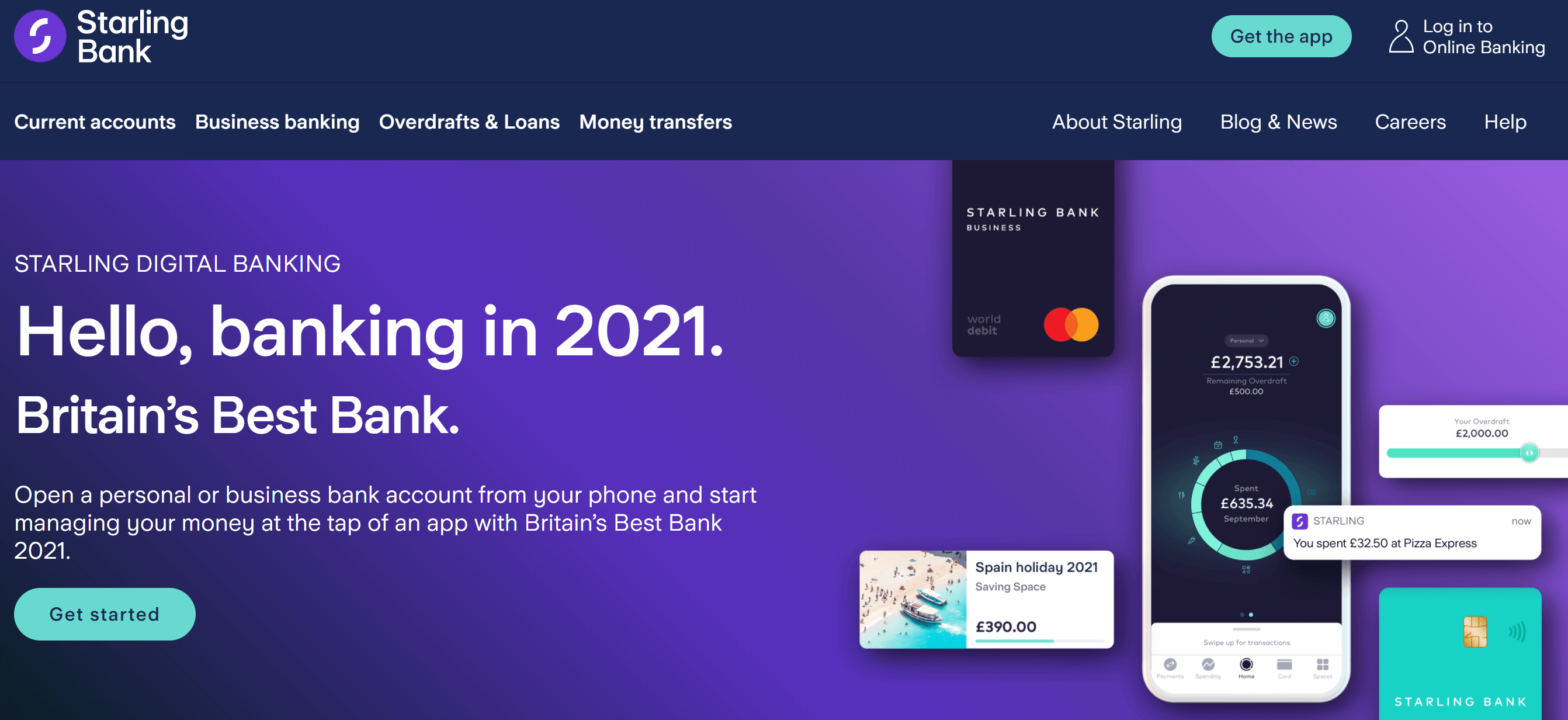 Starling Bank is an award-winning, fully licensed, and regulated bank built to give people a fairer, smarter, and more human alternative to the banks of the past. Starling offers a wide range of account facilities. Starling also provides B2B banking and payments services through its Banking-as-a-Service model based on the proprietary technology platform that it uses to power its own bank. The Starling Marketplace offers customers in-app access to a selection of third-party financial services.
Our network of startup founders has said "Starling gets some of the best reviews from all the alternative banks. They are working hard on introducing new features to improve their overall small business and startup banking offering".
Free Plan – Yes
---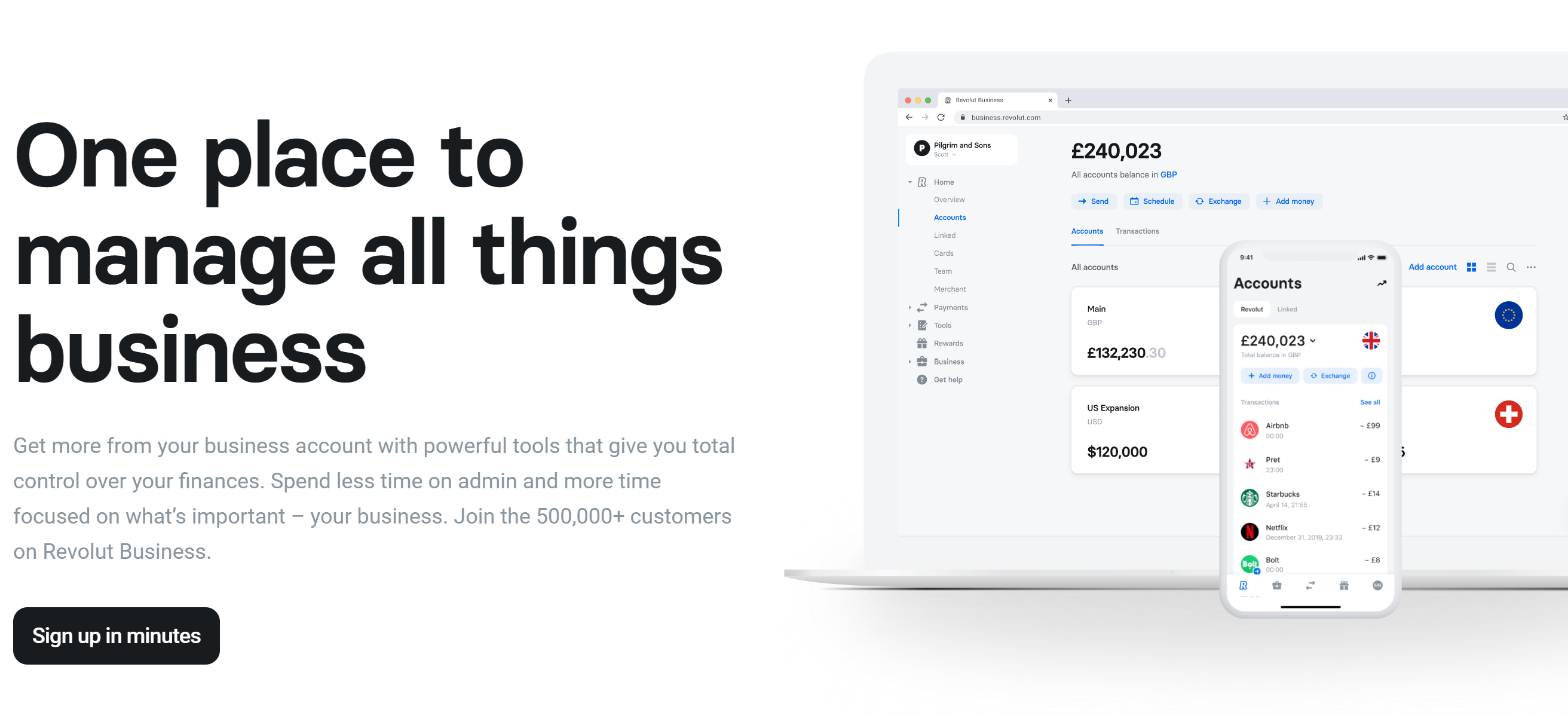 Revolut claims they are building the world's first truly global financial super app. In 2015, Revolut launched in the UK, offering money transfers and exchanges. Today, Revolut customers around the world use dozens of Revolut's innovative products to make more than 100 million transactions a month.
Like Starling, Revolut has pretty solid reviews. Our network of startup founders has said "From our experience, Revolut is best suited to startups who plan to sell in multi-currencies".
Free Plan – Yes
---
Best Accounting Tools
In this section, we highlight a few of the best accounting tools for startups. If you are working with an accountant to help you with payroll, bookkeeping, and tax returns they will probably have their preferred option and typically a monthly subscription to an accounting tool will be included in whatever fees you are paying your account. If you are going it alone then our selection of accounting tools will make your financial management and financial admin tasks a whole lot easier.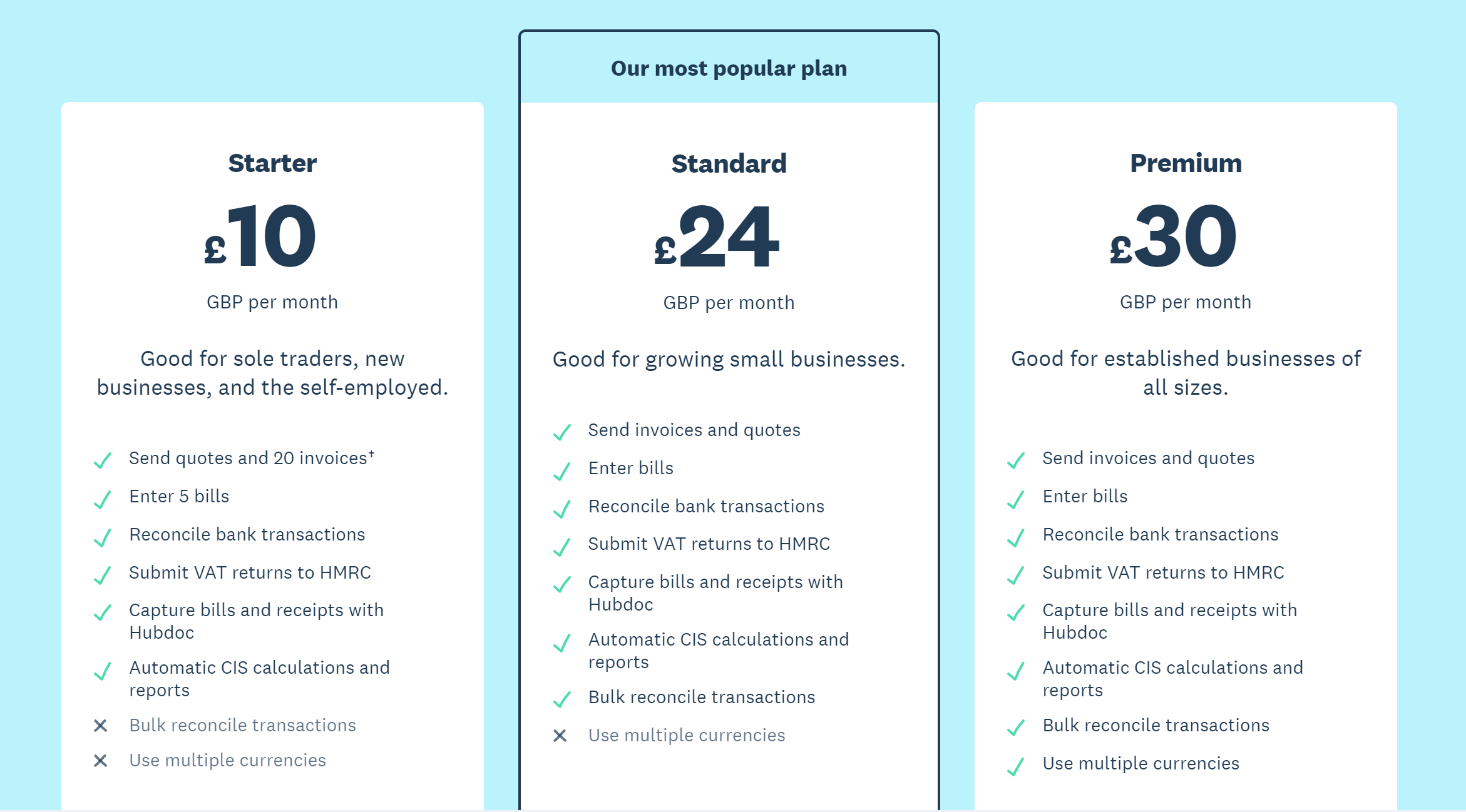 Xero was created to change the game for small businesses. Their cloud-based accounting software connects people with the right numbers anytime, anywhere, on any device. For accountants and bookkeepers, Xero helps build a trusted relationship with small business clients through online collaboration. Xero claims to be helping over 2.7 million+ subscribers worldwide to transform the way they do business.
Our network of startup founders has said "In our experience, the Mobile App version of their platform is lacking in features. But for many startups, it still provides basic functionality to manage your finances on the go. A solid cloud-based choice if you are planning on managing every financial aspect of your startup on your own. Good integrations with most banks and third-party payment processors like Stripe or GoCardless".
Free Plan – No. Free trial then paid plan.
---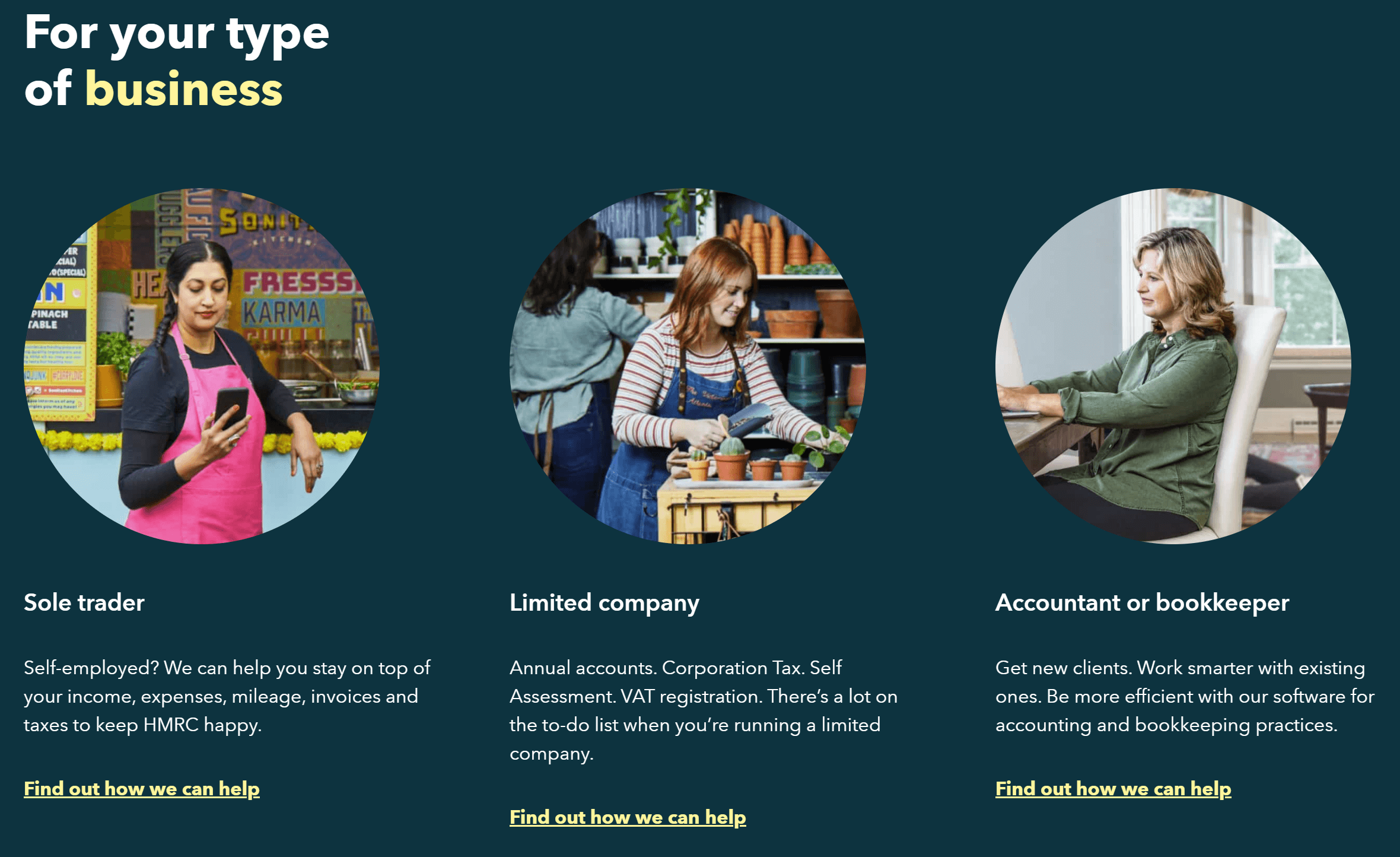 Quickbooks claims you can save around 8 hours a month managing your accounts with QuickBooks' all-in-one online accounting software. Whether you're a small business owner or self-employed, QuickBooks makes it easy to manage your business finances from anywhere.
Our network of startup founders has said "In our opinion, the user interface is easier to use than Xero, but functionality wise there is not too much difference. Quickbooks has one of the highest review scores out of all small business accounting software tools. One-click integrations with most banks and third-party payment processors like Stripe or GoCardless".
Free Plan – No. Free trial then paid plan.
---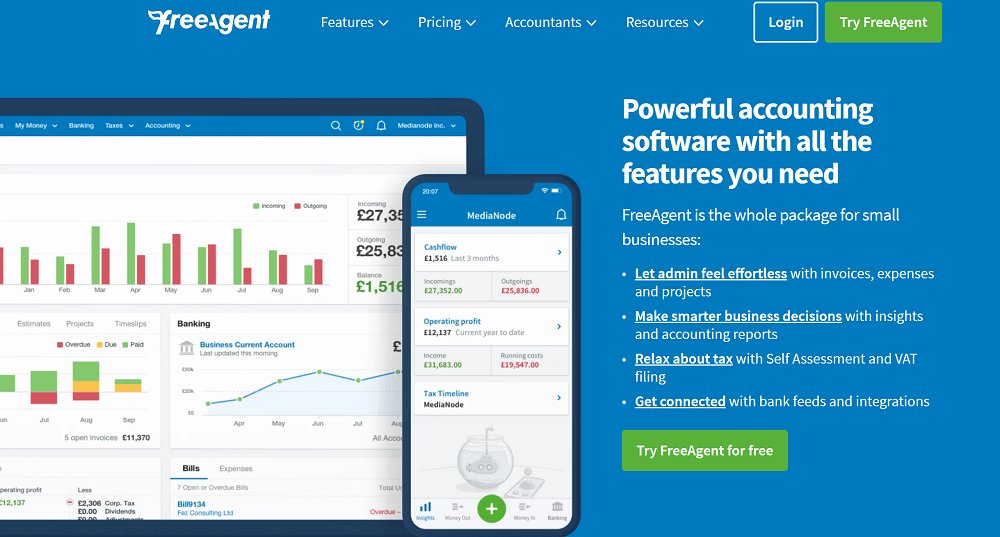 FreeAgent claims that their award-winning accounting software helps over 100,000 small businesses take care of their finances and their 'Practice Dashboard' feature allows accountants and bookkeepers to manage their clients at a glance.
Our network of startup founders has said "FreeAgent was sold to Natwest in 2018, so if you are planning on banking with Natwest this tool is a great choice. Simple to use and has a nice user interface. In our experience, FreeAgent isn't as widely used by accountants, but it's all about personal preferences. Decent integrations with most banks and third-party payment processors like Stripe or GoCardless".
Free Plan - Yes
---
Best Website Builder tools
In this section, we look at some of the best website builder tools on the market today. Depending on your requirements will depend on which tool is best suited, for example, Hubspot is a great choice if you are focused on an inbound marketing strategy, whereas Shopify is great if you are launching an e-commerce business.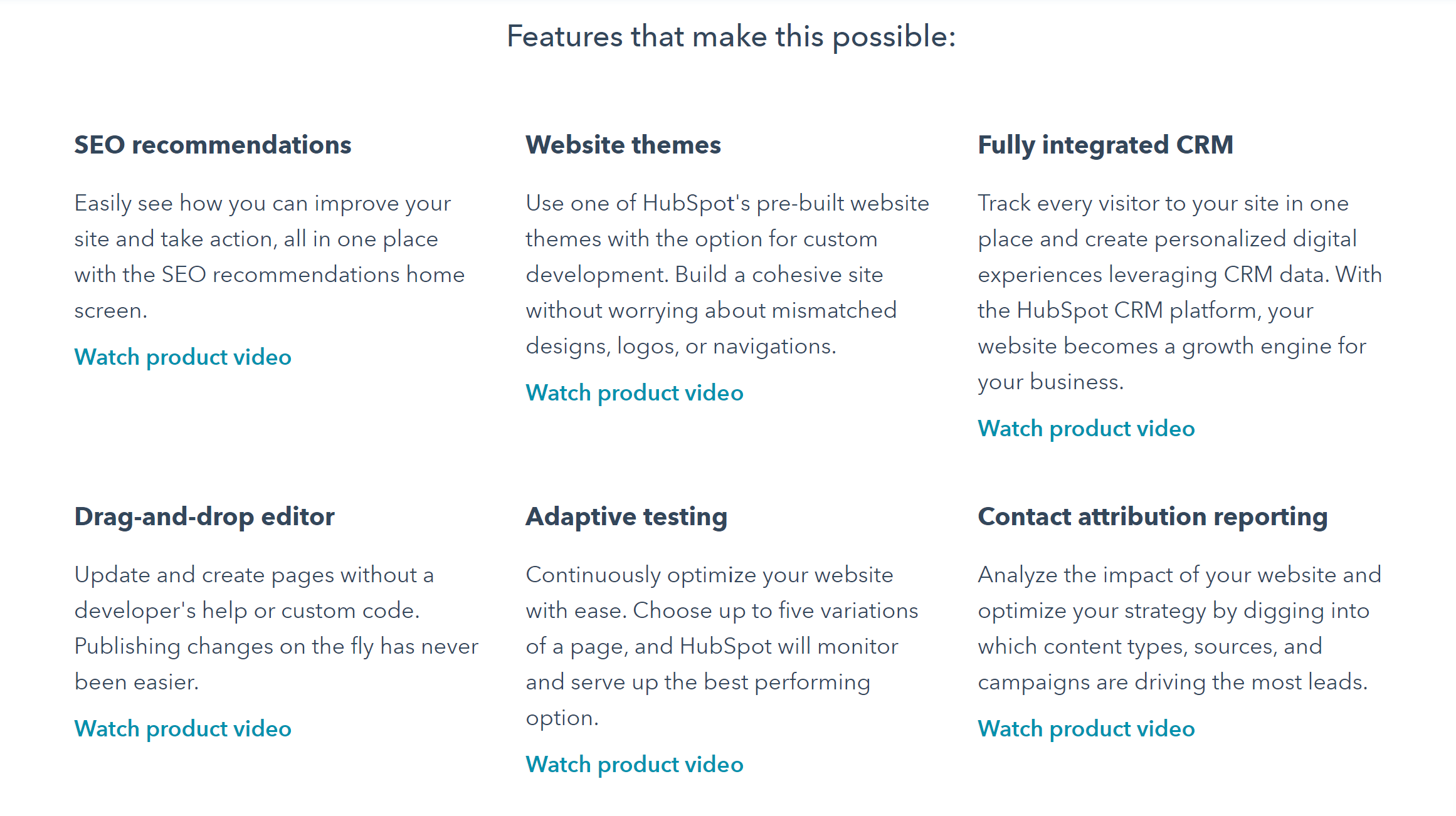 When you're building a website on the HubSpot CMS, everyone wins. Developers build using flexible themes. Marketers easily edit and create pages on their own. And since it's backed by HubSpot's CRM tools, customers enjoy a seamless digital experience.
Our network of startup founders has said "After using Hubspot in 100s of startups over the years, in our opinion, Hubspot is the best website builder tool if you are focused on an inbound marketing strategy. From workflow automation, social media automation, email marketing, sales email sequences, and CRM functionality, Hubspot really does give your startup a centralized platform to launch and grow your startup".
See more about Hubspot analytics here.
Free Plan – No. Free trial then paid plan.
---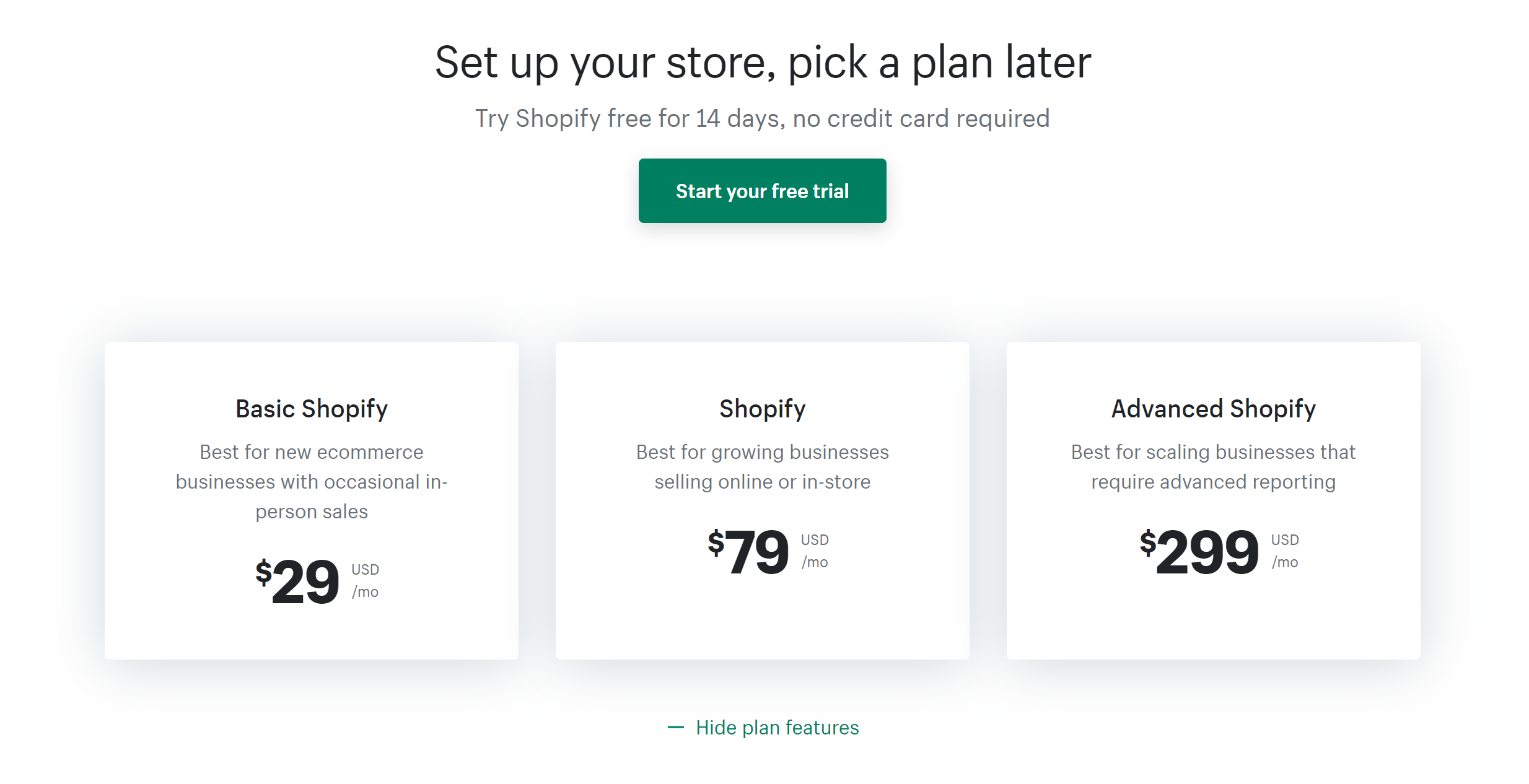 Choose from over 70 professional and free store themes. Customize colors, imagery, and fonts with ease. No design skills are required. All Shopify themes are fully responsive, which means your customers get a consistent experience no matter how they browse your store. Shopify Payments allows you to accept credit cards instantly and without third-party accounts.
Our network of startup founders has said "Shopify has arguably led the way in democratizing affordable e-commerce websites. Shopify has a decent approach to their pricing plans which will grow as you grow. They have a great marketplace of add-ons for your e-commerce website and integrations with most third parties you will need in your early years of growth".
Free Plan - No. Free trial then paid plan.
---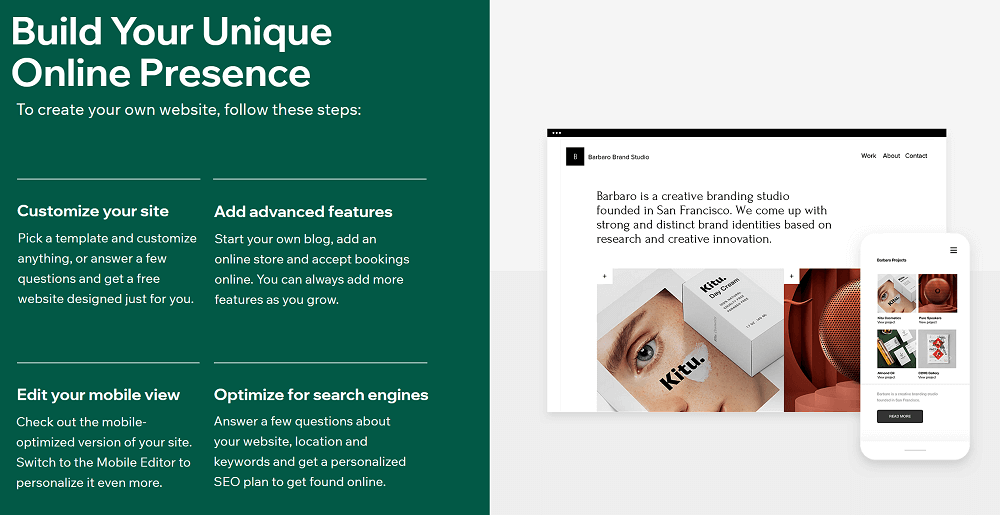 Design and build your own high-quality websites. Whether you're promoting your business, showcasing your work, opening your store, or starting a blog—you can do it all with the Wix website builder.
Our network of startup founders has said "Wix has developed a lot in the last few years. Offering different themes you can launch an e-commerce site as effectively as you can launch a blog or b2b website. The user experience can feel a bit clunky, and some of their themes do not have a modern feel. If you are semi-competent at building your own website, then Wix is a decent choice to get your startup going".
Free Plan – Yes
---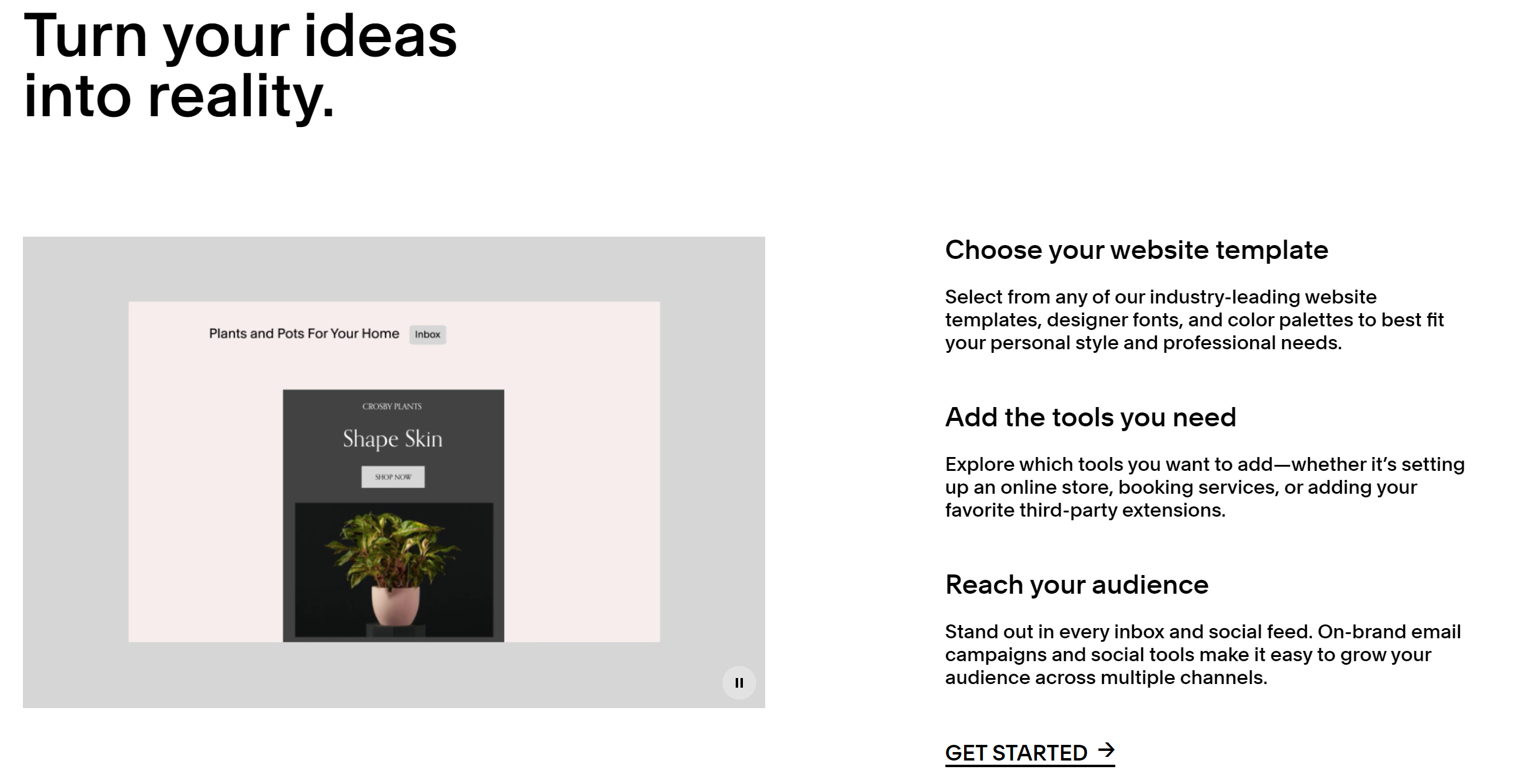 Squarespace is one of the slickest and best-known website builders around, and it has built this reputation, partly at least, on a fantastic range of features for bloggers. The platform comes with a host of built-in functions to support bloggers and writers, including multi-author functionality, AMP support, and the ability to schedule posts.
Even better, Squarespace's Blog App allows you to manage your blog from your smartphone, which is great for publishing and editing content on the go. Tools that publish to, sync with, and import from social media outlets, including Twitter, Instagram, Vimeo, and others, also provide a great way of ensuring your posts receive the attention they deserve.
Our network of startup founders has said "Squarespace has a great range of features and is relatively easy to use. With pre-built themes and drag-drop functionality, you can launch a decent website in under a day. In our opinion, Squarespace has better themes than Wix. If you are a subscription-based business, selling services or promoting gift cards then Squarespace is definitely one to consider".
Free Plan - No. Free trial then paid plan.
---
Best SaaS Tools for Inbound Marketing
In this section, we highlight some of the best inbound marketing tools for startups. Marketing in modern times is a complex area and there are thousands of tools you could consider. Our advice is to truly understand what you are trying to do and find the best tool that fits your exact use case. Many inbound marketing tools cover many use cases and give extended functionality you may not need to achieve your marketing goals.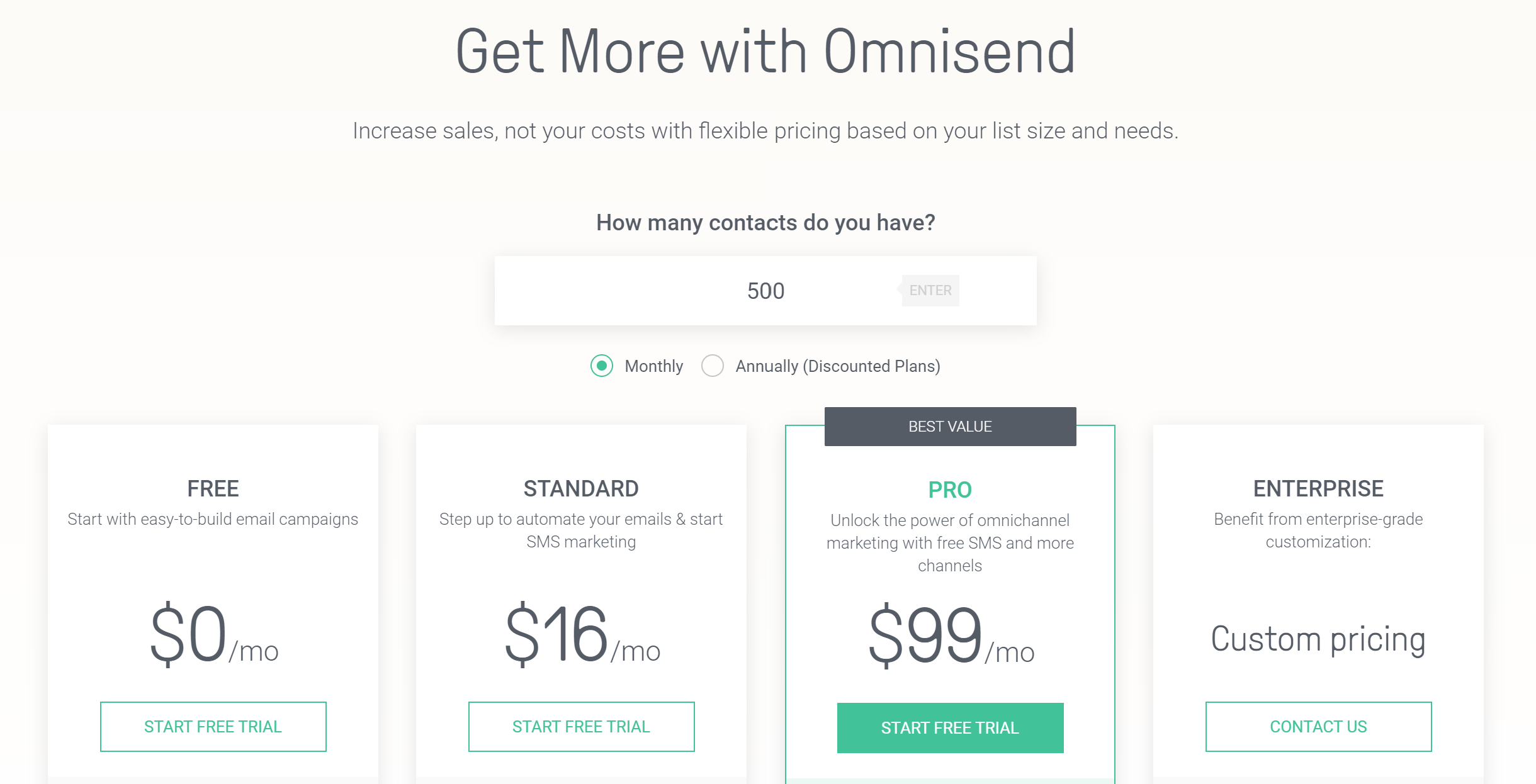 For marketing automation, it's hard to find a more comprehensive tool than Omnisend. What sets this platform apart from the others on this list is the omnichannel functionality: you can add several channels to the same automation workflow: email, SMS, push notifications, Facebook Messenger, and more. This means that you can create an immersive omnichannel experience for your customers, which automatically sends them the message via the channel they've opted in for. With advanced targeting, split automation, and an easy drag-and-drop builder, Omnisend is definitely a marketing automation tool worth a look at.
Our network of startup founders has said "When you read reviews about Omnisend a trend begins to appear - Omisend is user friendly, beautifully designed, and it's easier to navigate than some other email platforms we have used. It offers great analytics and reports which makes Omnisend standout"
Free Plan – Yes
---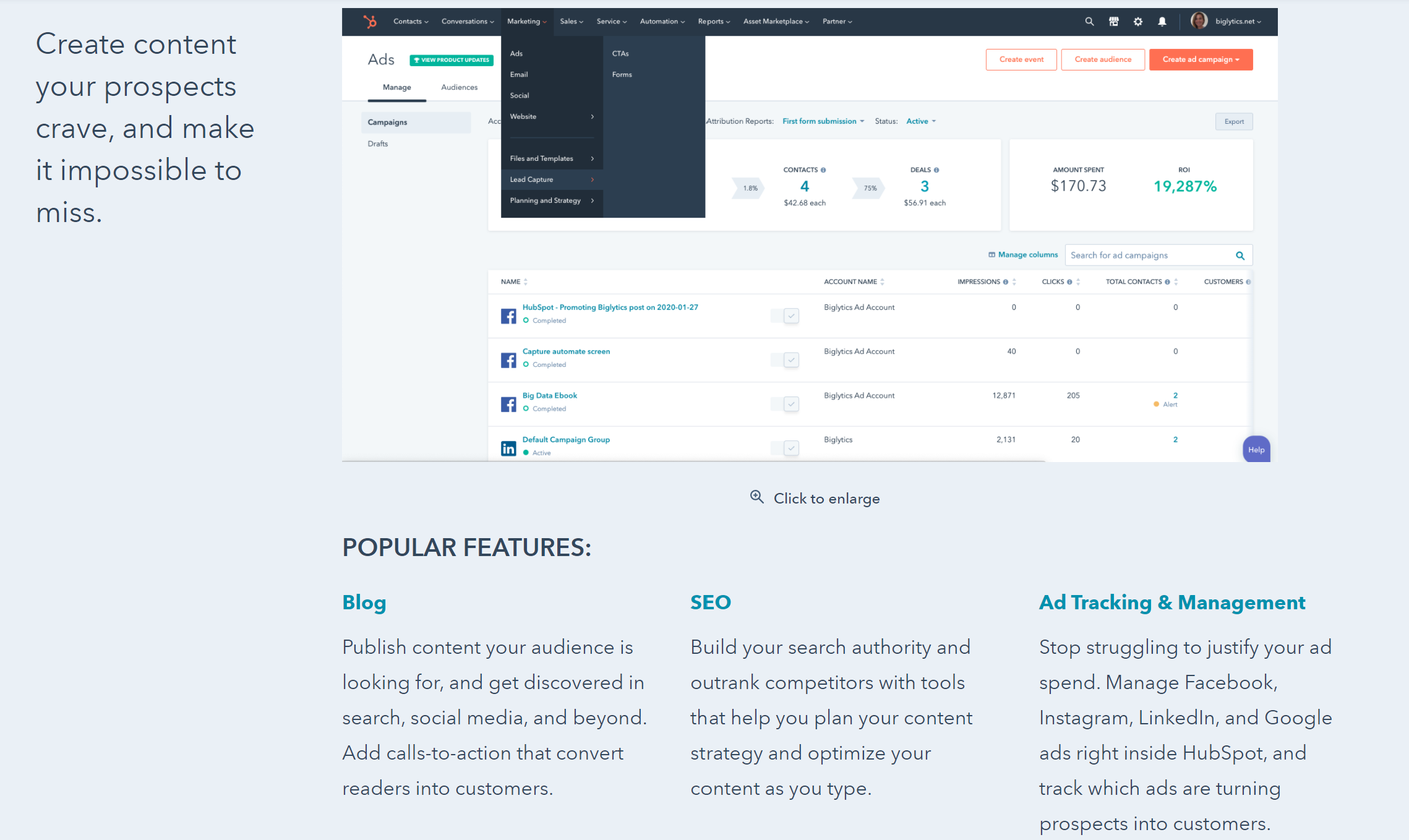 Hubspot Marketing Hub is fundamentally different from other marketing automation tools for a few reasons. For one, their focus on inbound marketing (including content and search marketing) is unparalleled. They also offer the added benefit of the Sales and Service Hubs, which means your team can better work together—even across departments.
Our network of startup founders has said "In our opinion what makes Hubspot Marketing Hub such a great choice for startups is just about anyone can sign up and within a few hours you could be making 75% of the features productively work for your startup. As per our other coverage of Hubspot in this article, if you are focused on an inbound marketing strategy you really can't go wrong with Hubspot".
Free Plan - Yes
---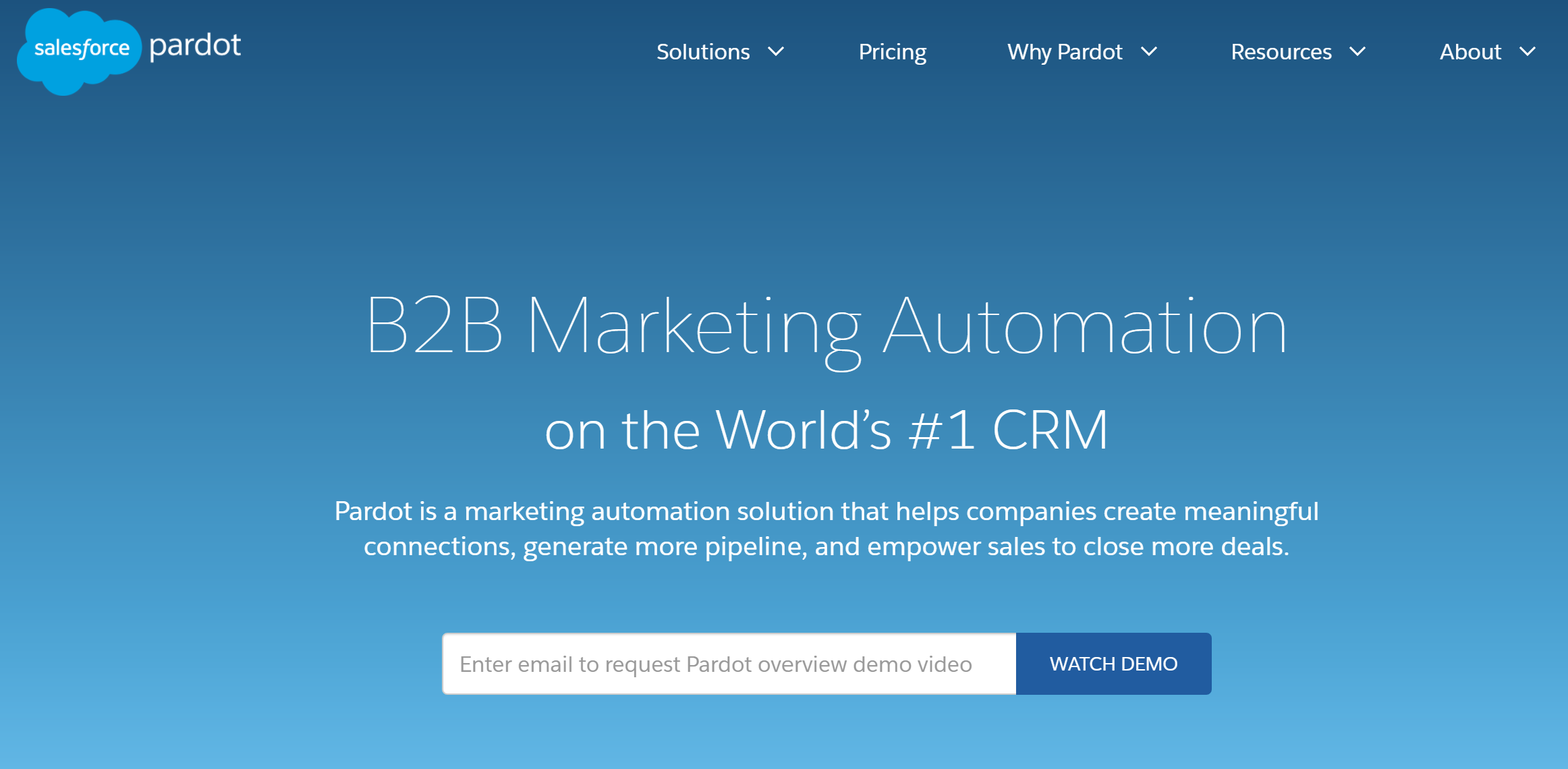 Pardot (now part of Salesforce) is another marketing automation tool that's tailored to the needs of B2B marketers, with support for things like B2B analytics and account-based marketing solutions. The partnership with Salesforce makes Pardot part of a robust suite of products that work together to help sales and marketing teams be more effective together.
Our network of startup founders has said "If you have decided to use Salesforce as your CRM then Pardot is the recommendation for an integrated marketing automation tool from all our network founders. Most of these founders have successfully grown startups that have a more complex sales process, typically non-transactional and with higher solution deal values".
Free Plan - No
---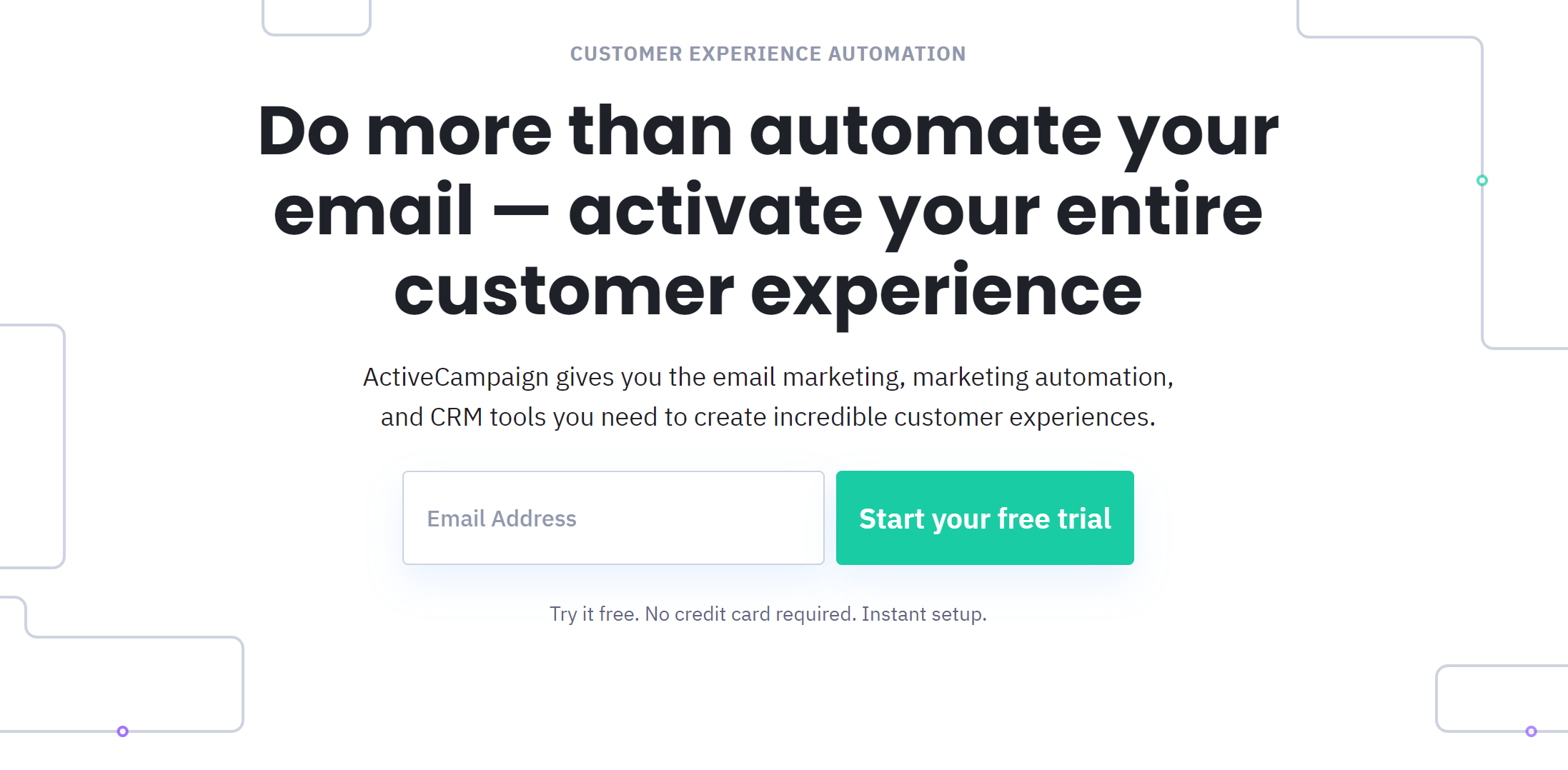 As a marketing automation tool, ActiveCampaign does perhaps the best job at working automation into the processes of real humans. The reality is, that marketing software can't handle everything—there are aspects of marketing that need a human touch. ActiveCampaign built their software around that, adding features like notification emails that empower marketers and salespeople, instead of replacing them.
Our network of startup founders has said "Easy to use, great functionality, and a myriad of automation options, ActiveCampaign is definitely a fantastic choice. From our previous experience, we feel that ActiveCampaign comes into its own when you have a growing or established marketing team".
Free Plan - No. Free trial then paid plan.
---
Best Email Marketing Automation Tools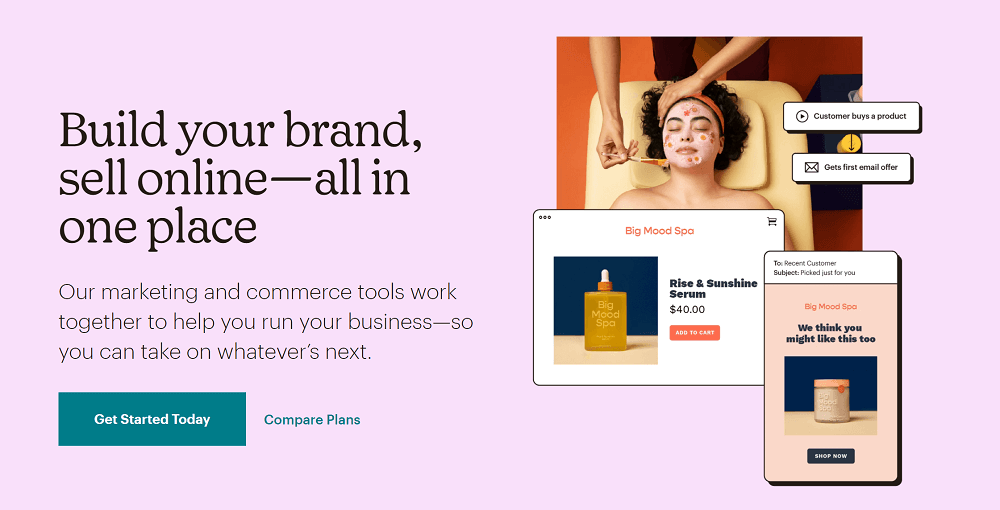 Mailchimp is in the process of growing from an email marketing tool to a full-blown marketing automation solution. While their expanded features remain to be tested, Mailchimp is one of the original email marketing tools, and they've turned that experience into a rock-solid and capable email automation tool that's a breeze to use.
Our network of startup founders has said "Mailchimp is one of the longest standing email marketing automation tools. In recent times they have received some pretty bad reviews from small to mid-size companies due to their platform not being overly user friendly, taking a vast amount of time and resources to get the best out of the platform, and poor customer service. However, Mailchimp still remains one of the most widely used email marketing tools and is a good choice if your startup will grow significantly from repeat customer orders and loyalty".
Free Plan - Yes
---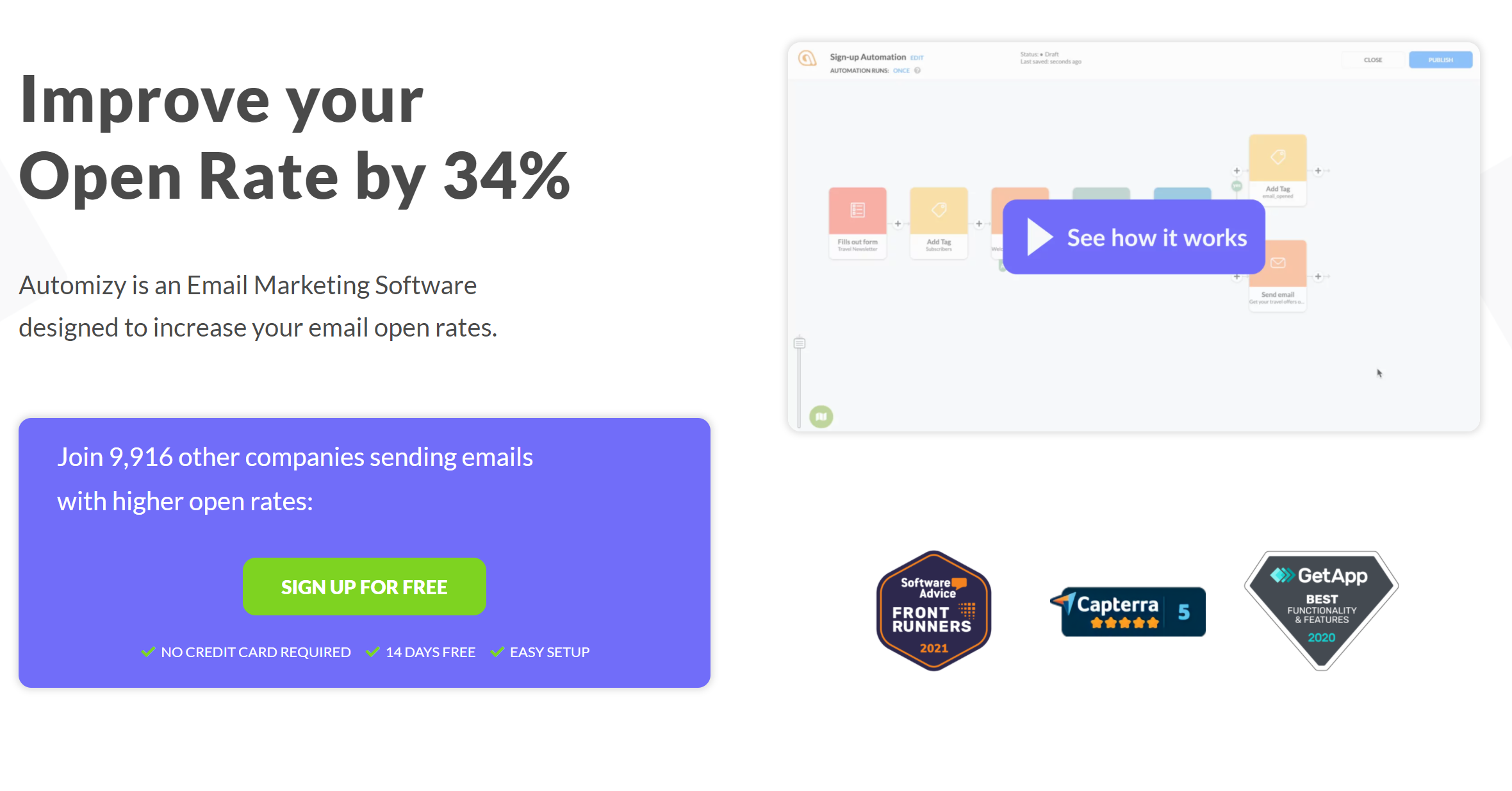 Automizy is an email marketing platform that is designed to increase your open rates, by providing a bundle of features that supports growing email open rates such as an artificial intelligence subject line tester, resend unopened emails, AB testing, and segmented email automation. Using Automizy keeps your messaging consistent and personalized.
Our network of startup founders has said "Automizy is a relatively new player in the email marketing automation software market but has gained a good reputation quickly, mainly due to being very cost-effective compared to other providers and offering a nice set of features. Check out their free subject header writer tools if you are stuck for ideas on how to get your clients and prospects to open more of your emails".
Free Plan - Yes
---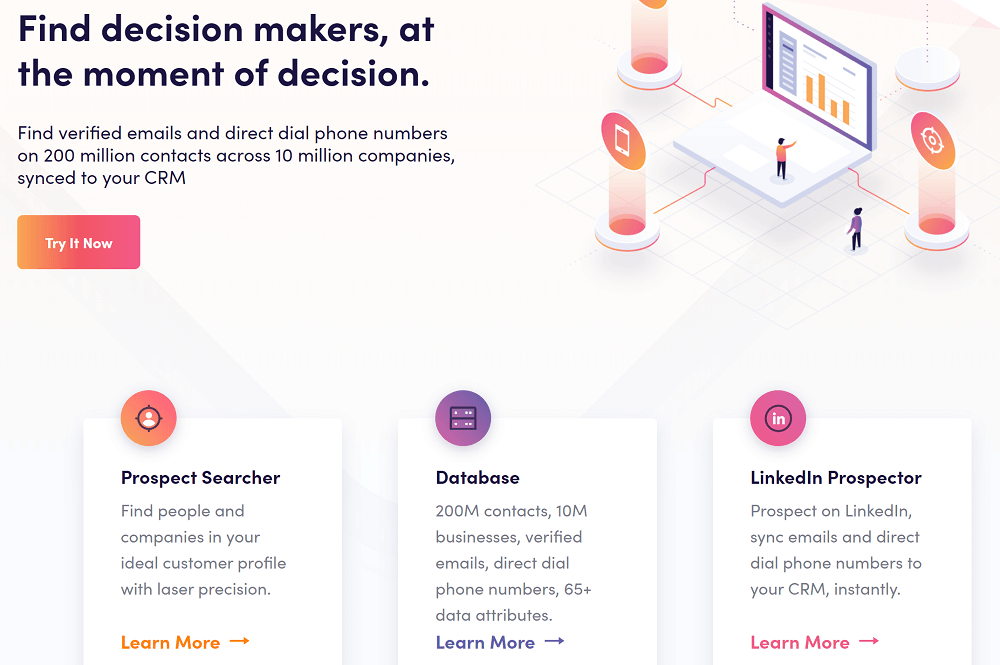 Target your ideal buyer with precision, and get verified emails and direct dials phone numbers instantly on 200M people and 10M companies.
Our network of startup founders has said "For B2B email outreach and drip campaigns, Apollo is a firm favorite. Giving you the ability to find contacts (with a good level of accuracy) and add them in one click to an email outreach campaign, Apollo does a lot of the heavy lifting for you. While Apollo is a great choice for any B2B Startup, Apollo could improve the user experience of its analytics and dashboards. Their lower-priced plans also limit the number of people you can add to a sequence in 1 click, which can become extremely time-consuming if you have a large target list of prospects".
Free Plan - Yes
---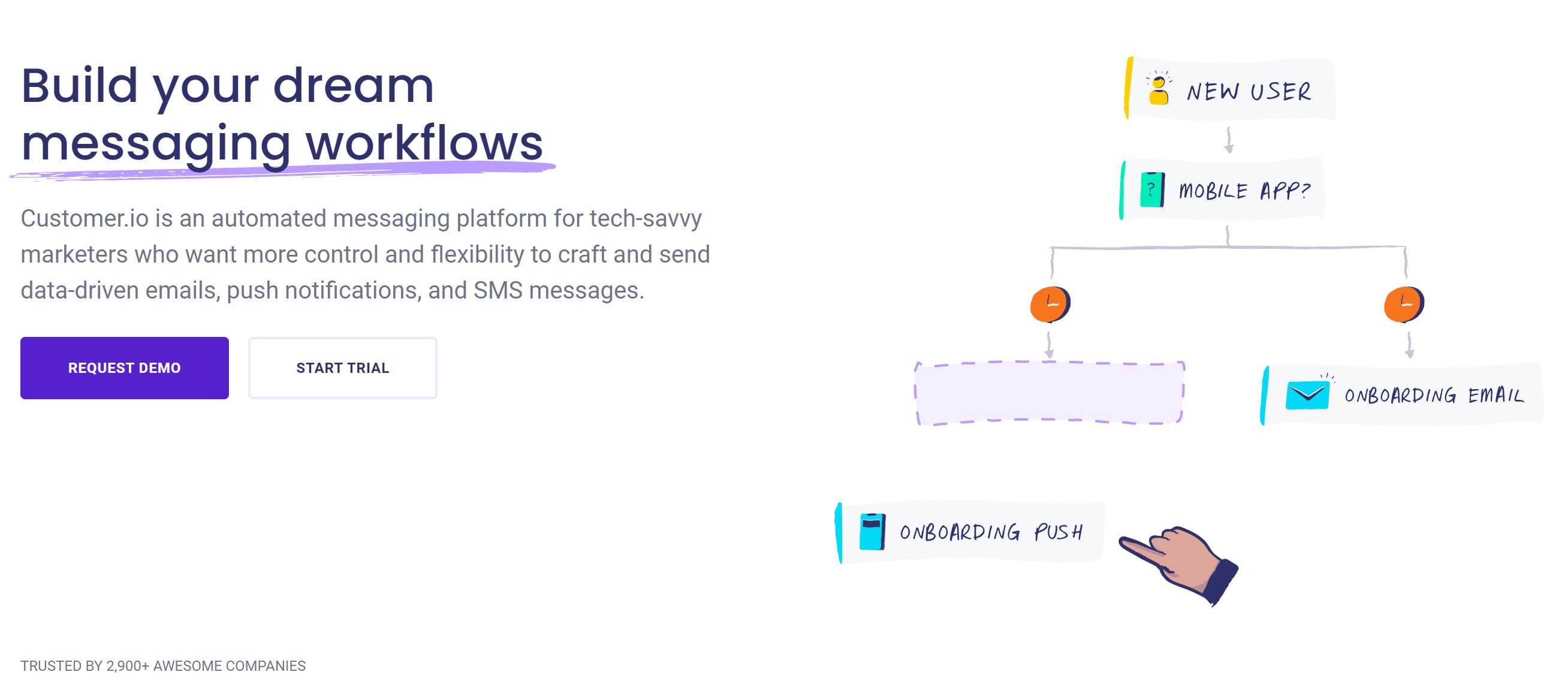 Built for subscription-based businesses, Customer.io's email automation tool is all about engaging customers throughout the customer lifecycle. Tons of integrations make it easy to funnel data from across your technology stack and turn it into automated segments and email campaigns that resonate.
Our network of startup founders has said "What we really love about Customer.io is their ability to segment audiences easily to enhance your very targeted email campaigns. Whatever you want to segment, Customer.io gives probably the best functionality. Customer.io is a good choice if you are also planning on running integrated email, SMS, and push notification campaigns".
Free Plan - No. Free trial then paid plan.
---

Drip's email marketing automation is built for eCommerce businesses—meaning it works with all of the other eCommerce tools you use. You can create personalized content and automate campaigns based on customer behavior. Drip also offers more than email automation, so all of your messaging stays consistent and works together to drive customers toward a purchase.
Our network of startup founders has said "Drip has a very similar offering to Customer.io and offers good functionality and integrations. Many of our network founders who run e-commerce businesses rely on Drip and are very happy with the platform. However their pricing model is a little more complex, and costs can scale quickly if you are running integrated email, SMS, and MMS campaigns".
Free Plan - No. Free trial then paid plan.
---
Best Social Media Automation Software
Social media automation is another broad area. In this section, we highlight some of the best tools to help automate various aspects of social media marketing, from content publishing to monitoring, to analytics.

Hootsuite is one of the most comprehensive and full-featured social media automation tools. With features to help you schedule content, curate from a pre-approved library, and monitor conversations about your brand and industry, Hootsuite has everything you need to create a social media presence that makes a difference for your brand.
Our network of startup founders has said "If you are planning on your startup being heavily reliant on social media to grow your customer base, then Hootsuite gives you every feature you could ever need to launch, manage and grow your social media presence. Although they do have a free plan it is quite limited but good enough if you are just getting started. Their pricing plans scale nicely and you can have a small social media team plan for less than £/$100 per month".
Free Plan - Yes
---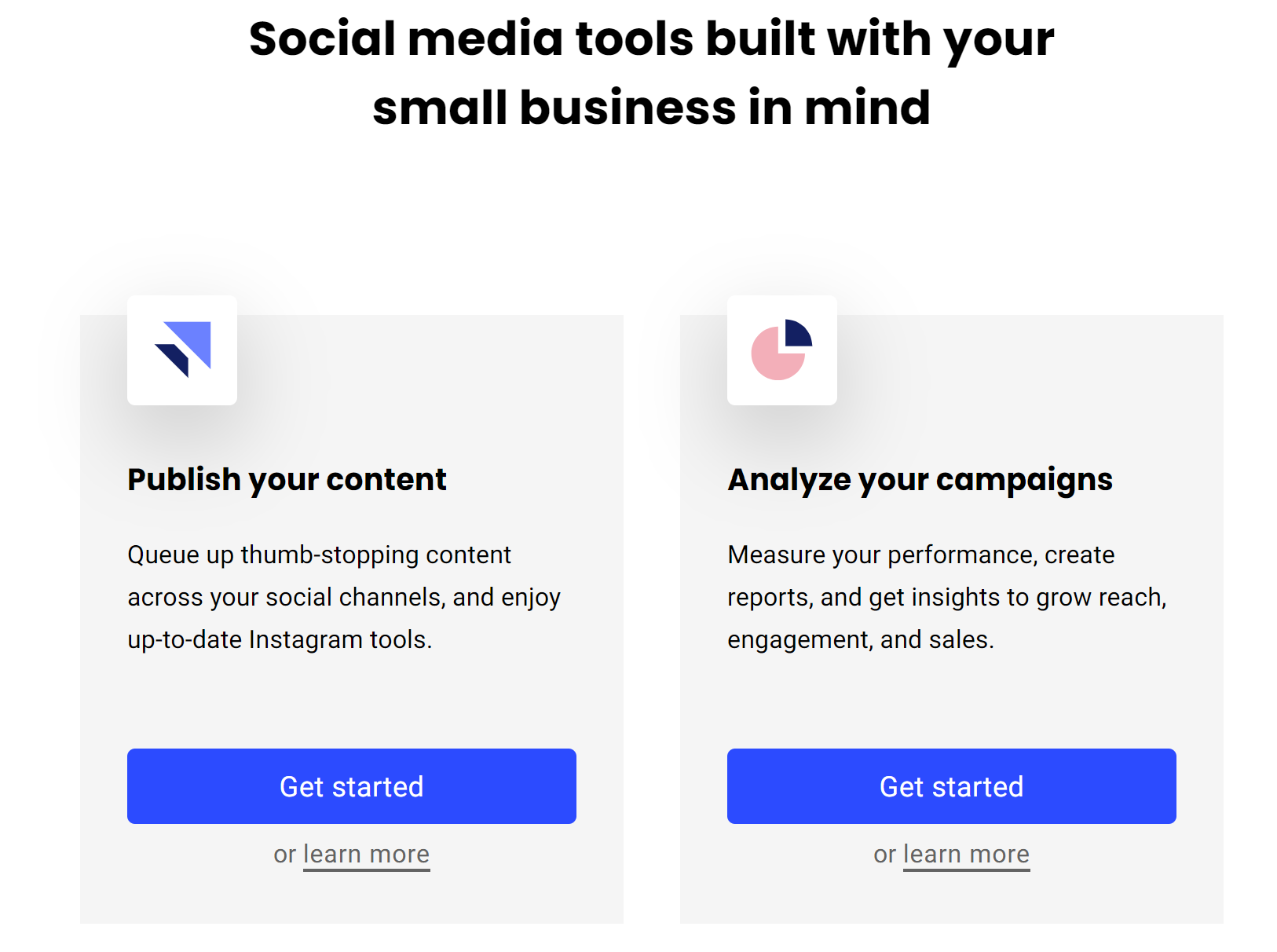 Originally a social media content scheduling tool, Buffer has grown to reflect the way today's brands really use social media. The tool still makes it easy to schedule and curate content, but additional 'Reply' and 'Analyze' solutions help connect social media with all the other teams they need to work within modern organizations.
Our network of startup founders has said "It really is a coin flip between Buffer and Hootsuite, they are evenly matched in features, functionality, integrations, and analytics. In our opinion Buffer has a slightly better free plan and might just edge it overall in total cost and ROI in their paid plans".
Free Plan - Yes
---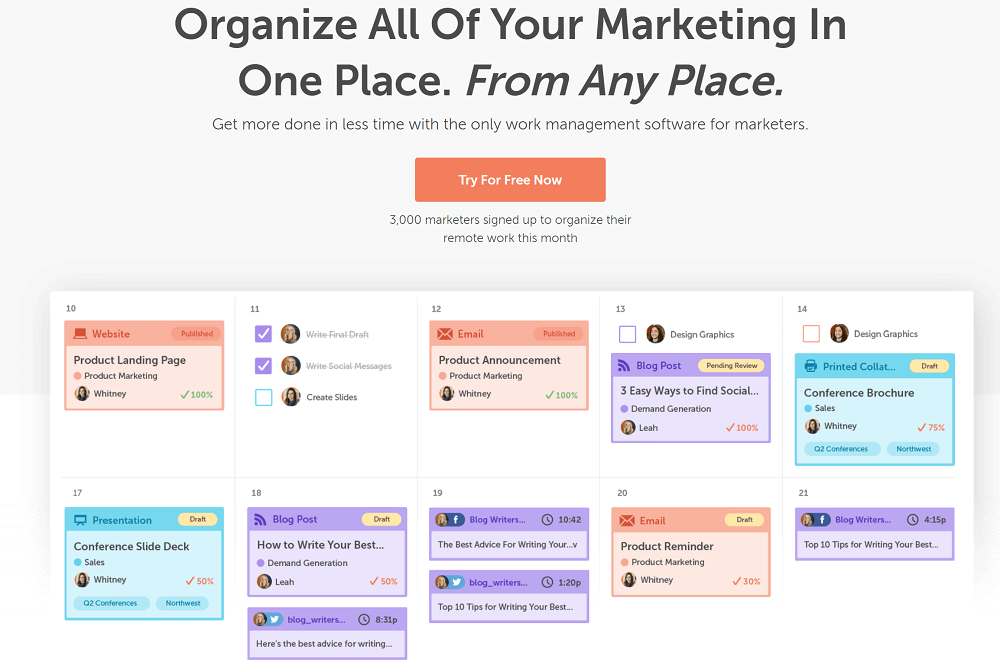 CoSchedule's automation tool offers one of the best solutions for planning and strategizing social media content in advance. By mapping out all of your content, including what you'll say and when it's easy to get a bird's eye view of your end-to-end social production. Plus, analytics and CoSchedule's suggestions make it clear what resonates, so you can reuse and create more content like it.
Our network of startup founders has said "We added CoSchedule in this section as they do offer an easy to use and user-friendly interface for social media automation. CoSchedule is doing some interesting things that will help you deliver a wider content marketing strategy in the future, so definitely a startup software tool to consider using".
Free Plan - No. Free trial then paid plan.
---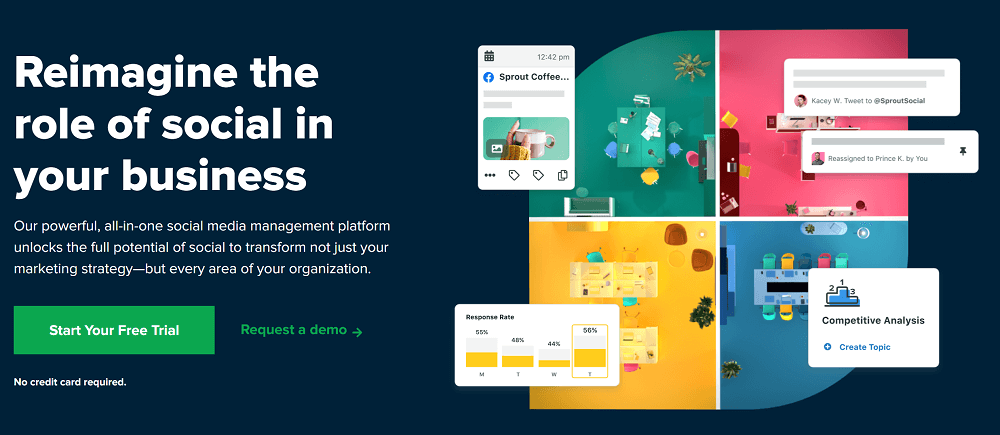 Sprout Social has one of the widest feature sets among the social automation tools on our list—with individually tailored solutions for everything from social management and marketing to customer care, employee advocacy, and data and intelligence. The publishing wing of Sprout Social's solution is great for teams, too, making it easy to collaborate on both strategy and execution.
Our network of startup founders has said "Sprout Social is a great solution for social media management and automation, however, they also offer a lot more which is why their paid plans are typically more expensive than some of their competitors. If you want to be extremely analytical about your social media success, your competitor's social media presence, and have your own social media chatbots to help you manage your customer social engagement, then look no further than Sprout Social".
Free Plan - No. Free trial then paid plan.
---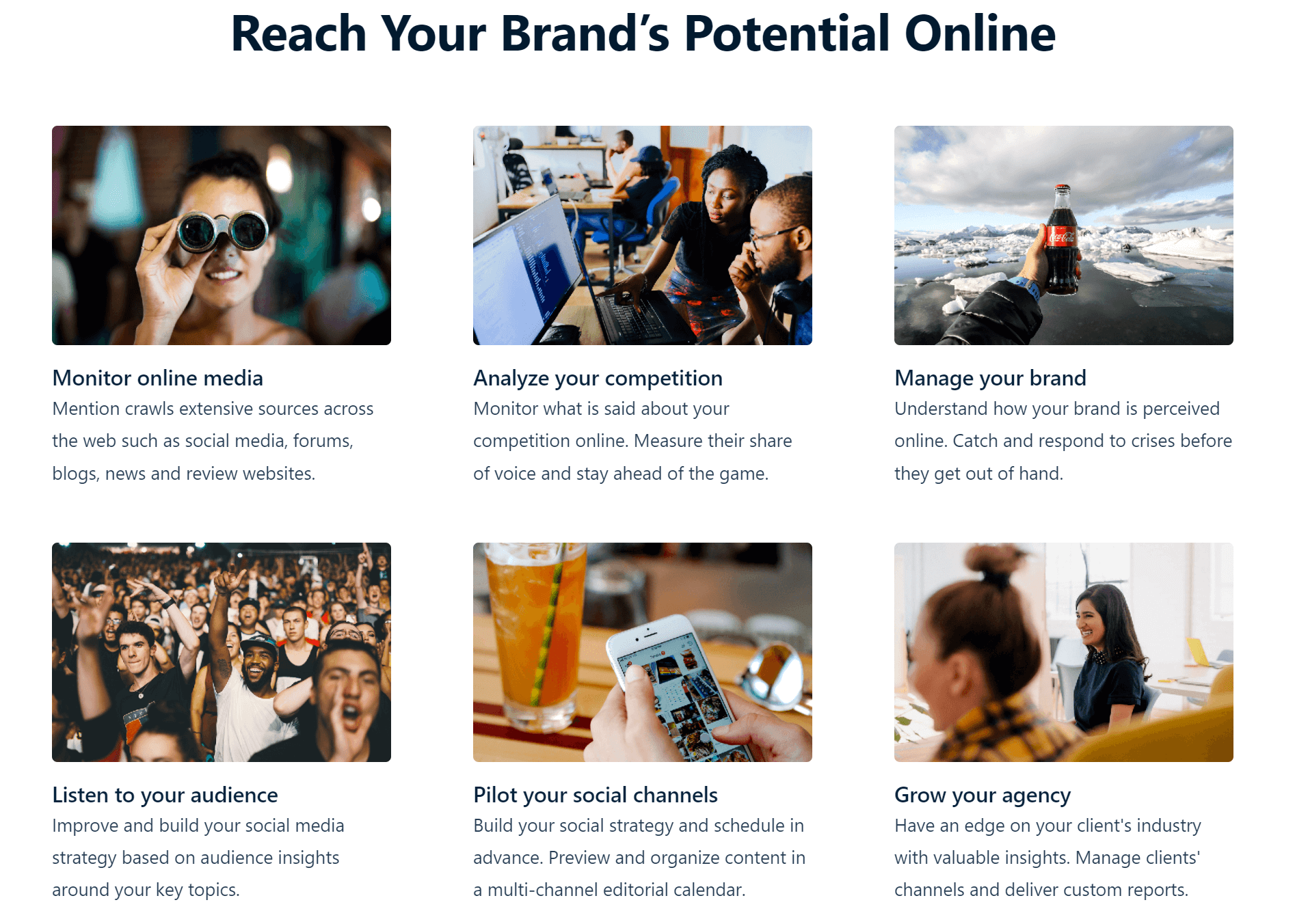 Leaning hard into the social listening aspect of social media marketing, Mention enables brands to track mentions across the digital media landscape. You can keep track of how your campaigns spur conversations throughout the web—not just on social media. Plus, Mention makes it easy to automatically track competitors and industry trends, too.
Our network of startup founders has said "Mention is another great social media tool for startups, however, it comes into its own if you want to build social media strategy on data insights. Mention takes alerts, monitor, listen and publish approach to their platform, and to get the best return on investment our network of founders recommends you follow this exact approach. Their features are pretty basic on lower-paid plans, but overall a decent choice for social media automation".
Free Plan - Yes
---
Best Pricing Automation Software
Whether you're looking to keep your prices competitive as your competitors shift or optimize your pricing model from the top-down, pricing automation software makes it easier to react to competitive pricing changes and turn your pricing strategy into an advantage.
Pricing automation tools are generally designed with the eCommerce use-case in mind, and those are the companies that are most likely to benefit from one of these tools. If you're working in eCommerce and selling competitive (and/or seasonal) products to a price-conscious market, a pricing automation tool can be a good option.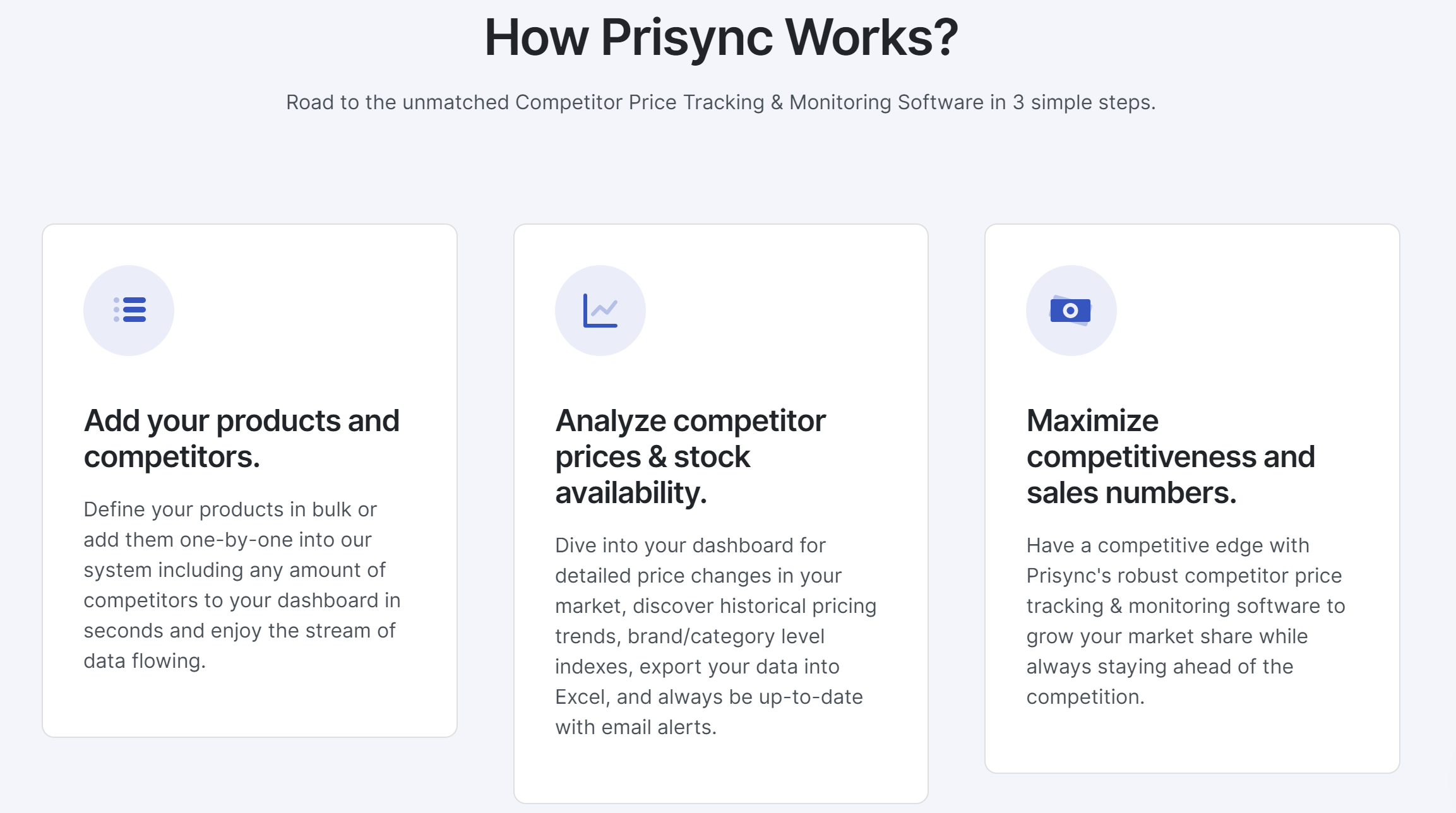 Prisync is pricing automation software designed for eCommerce. Since the eCommerce industry tends to harbor some of the most price-conscious consumers, it's vital that brands can react to competitive pricing changes in a hurry. Prisync automates that process, so you're always on top of competitor pricing and how it compares to yours.
Prisync is a favorite among our network of founders who run e-commerce businesses. Our network of startup founders has said "Prisync is a strong recommendation if you have launched your startup e-commerce website using Shopify. With a robust set of features, you can easily get your pricing right based on what your competitors are doing and what prices are available on marketplaces such as Amazon and eBay".
Free Plan - No. Free trial then paid plan.
---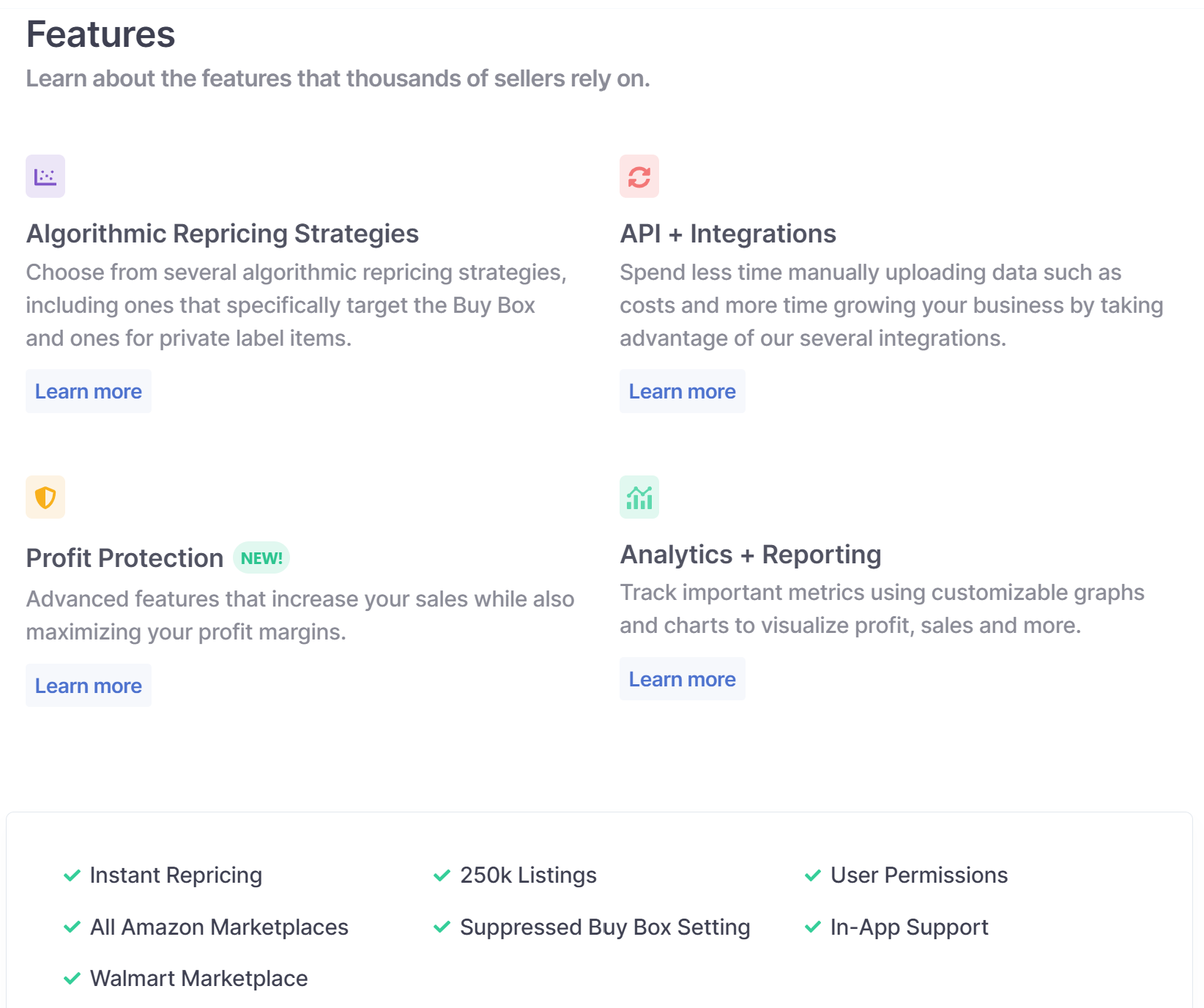 Informed is a repricing automation tool for eCommerce businesses and online sellers. With support for 13 different marketplaces, their tool works no matter where you sell online. Informed's approach to repricing is unique because the solution allows you to choose between creating your own repricing strategy or using their AI-powered suggestions.
Our network of startup founders has said "Informed stands out as an excellent choice for pricing automation with their handy 'Profit Protection' feature. Some other pricing automation tools are built on the premise 'if you are the lowest price then you will win more customers', Informed takes a different approach and intelligently defines your pricing to maximize your customer win rate and your profit margins". Not bad if you ask us!
Free Plan - No. Free trial then paid plan.
---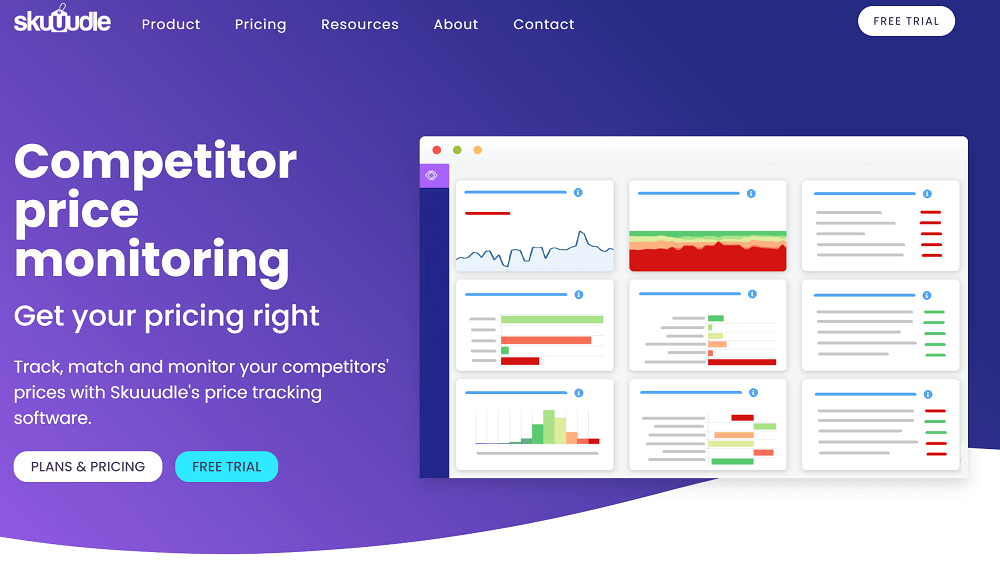 Designed for brands with a large catalog of products, Skuuudle makes it effortless to monitor competitor pricing and match products at scale, so you never miss a sale because of price. Skuuudle is also one of few pricing automation tools that pull data from both eCommerce marketplaces and direct sellers.
Our network of startup founders has said "Skuuudle is gaining a very good reputation very quickly and pricing automation every e-commerce startup should take a look at. Skuuudle gives a lot more pricing data than most of its competitors. Their features seem to also be a good value for your money and you have plenty of options to grow your price intelligence strategy with Skuuudle".
Free Plan - No. Free trial then paid plan.
---
Best Digital Advertising Software
With everything that goes into creating and optimizing digital ads these days, most startups need a helping hand to really make an impact. From building ad creative across ad channels to optimizing bidding strategies and retargeting, advertising automation tools are one of the best ways to control and scale your digital advertising effort.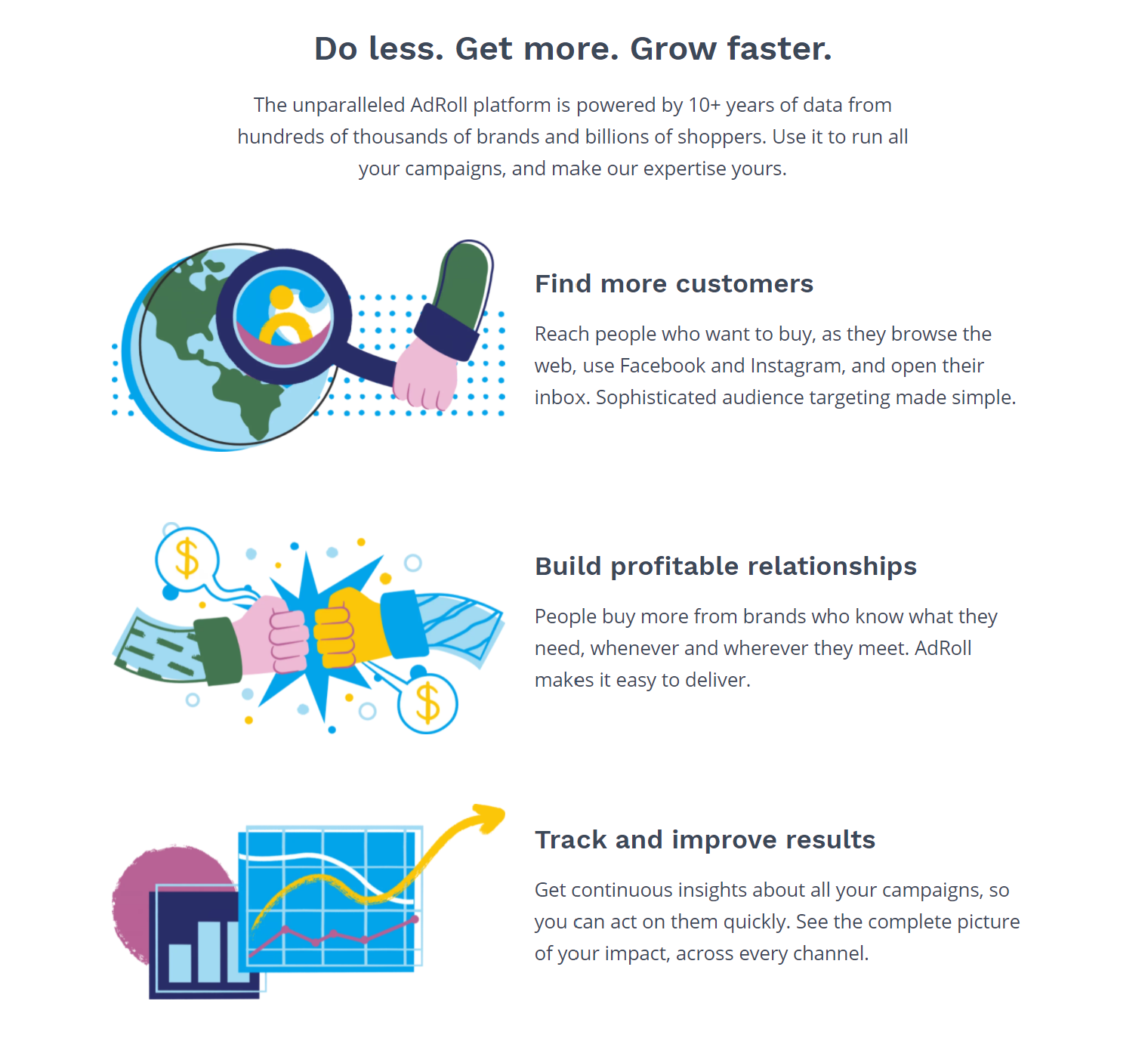 AdRoll is probably one of the best-known digital advertising automation tools, and for good reason. Their software makes it easy to run ads across every channel from display and social, to email. On top of that, AdRoll offers retargeting campaigns that pack a serious punch, so you can stay top of mind with new prospects and re-engage inactive customers.
Our network of startup founders has said "Whether you are digital ad savvy or just starting, AdRoll is a tool which can help you get the best from your advertising budget and help you increase your digital advertising knowledge as your startup grows"
Free Plan - Yes
---
Revealbot focuses on two ad platforms exclusively: Facebook and Google. The automation tool is focused on providing in-depth ad campaign analytics, so you can effortlessly find the most effective campaigns and double down on them. You can create rules to automatically optimize campaigns and even get full campaign reports via their Slack bot, Emma.
Our network of startup founders has said "If you have a decent monthly digital advertising budget and your focus is Facebook, you won't go too far wrong with Revealbot. Relatively easy to use, a nice user interface, and decent analytics, Revealbot is a great tool to engage your Facebook audience".
Free Plan - No. Free trial then paid plan.
---
Best Referral Marketing Automation
Loyalty and referral marketing is one aspect of marketing often left out of the conversation around marketing automation. But they both capitalize on the most powerful marketing tool—word of mouth.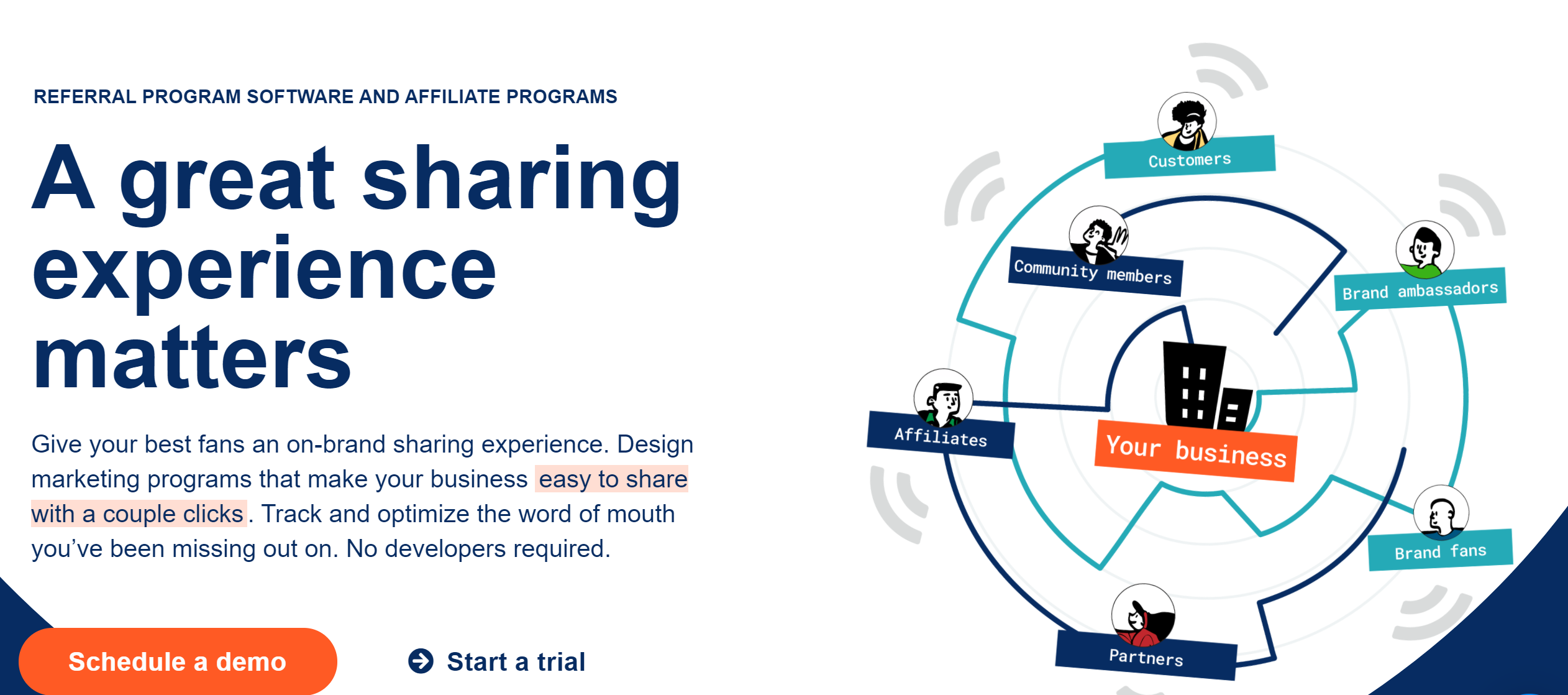 Referrals are powerful—but you have to be proactive about encouraging and capitalizing on them. Referral Rock makes it easy to set up the right type of referral program for your business—from refer-a-friend to influencer marketing, to business partner programs—so you can set it up once and let the referrals roll in on auto-pilot.
Our network of startup founders has said "Referral Rock gives you the power to super-charge your network, friends, and clients. Word-of-mouth marketing can ultimately generate the best ROI from your marketing spend. Before you jump into using a referral marketing tool, define your strategy and focus your efforts on making your network and clients work for you".
Free Plan - No. Free trial then paid plan.
---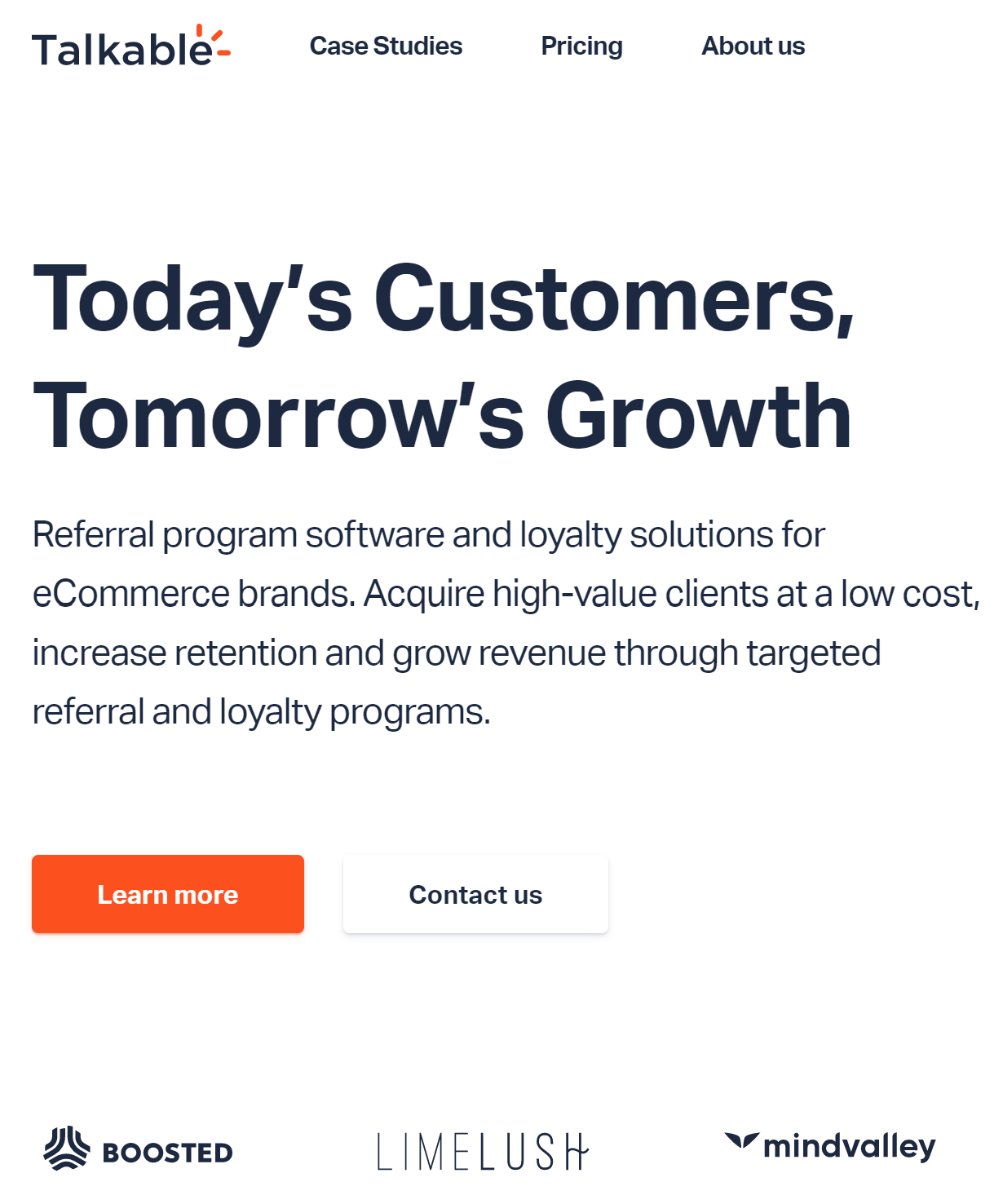 Referral program software and loyalty solutions for eCommerce brands. Acquire high-value clients at a low cost, increase retention and grow revenue through targeted referral and loyalty programs.
Our network of startup founders has said "The platform is easy to navigate, set up, and pull results from. However, to get the best results from the platform does require a fair amount of hand-holding, but Talkable's account management and client success teams are pretty. Talkable does feel like an enterprise platform but it is a great tool for early-stage growth companies".
Free Plan - Yes (only with Shopify)
---
Best Customer Success Tools
Customer success software is used by businesses to ensure, through interactions with the company, that customers achieve the outcome that enterprises anticipate them to reach as they use the product. This software uses detailed analysis of past behavior to create a "health score" to predict the future satisfaction of a customer, allowing companies to systematically grow an established customer base, identify any red flags, and increase customer retention rates.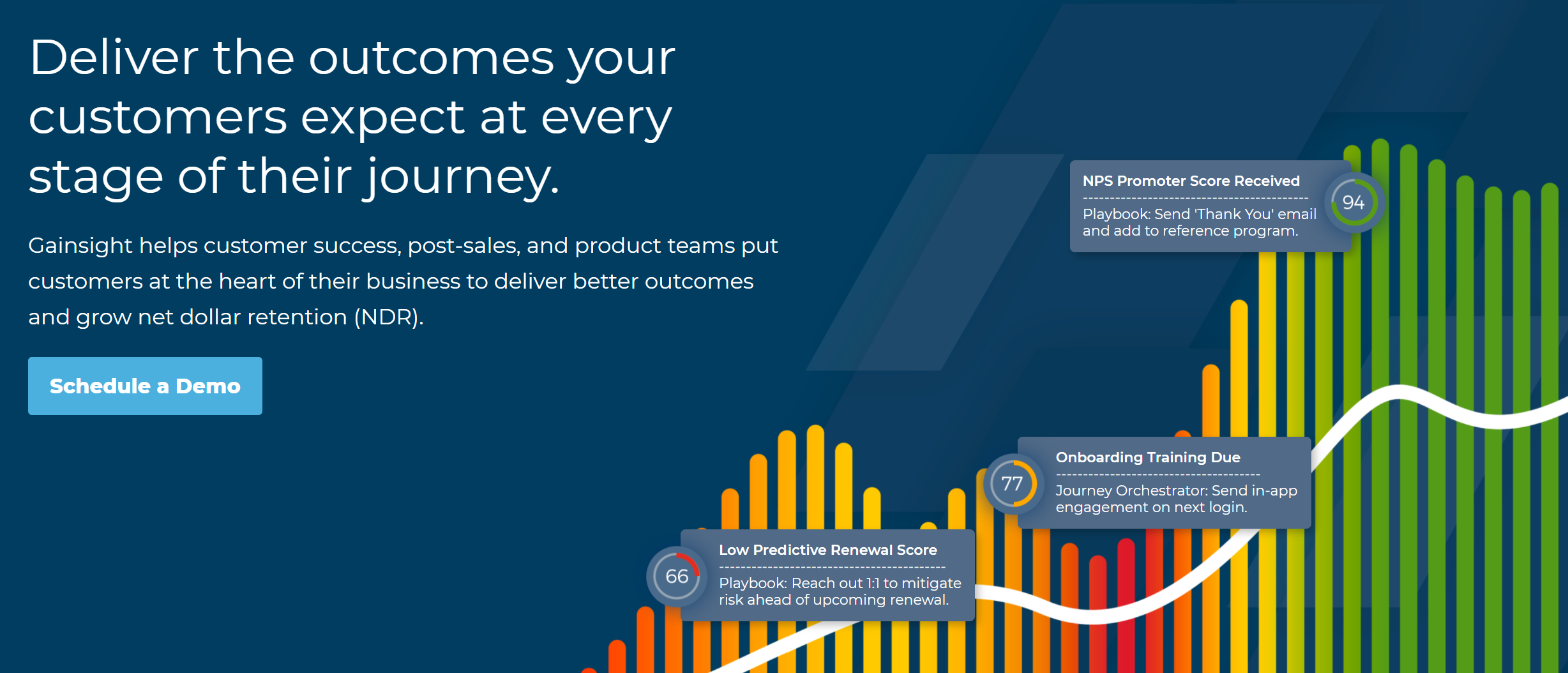 Gainsight's innovative customer-centric technology is driving the future of customer success. The company's Customer Cloud offers a powerful set of solutions focused on customer success, product experience, revenue optimization, customer experience, and customer data, that together enable businesses to put the customer at the center of everything they do.
Our network of startup founders has said "Ease of use is at the top of our list. Gainsight provides a proactive, collaborative platform that you can share with your teammates. Its two-fold purpose empowers you to track customer health automatically while keeping meaningful records of all of the interactions that build that health score".
Free Plan - No. Free trial then paid plan.
---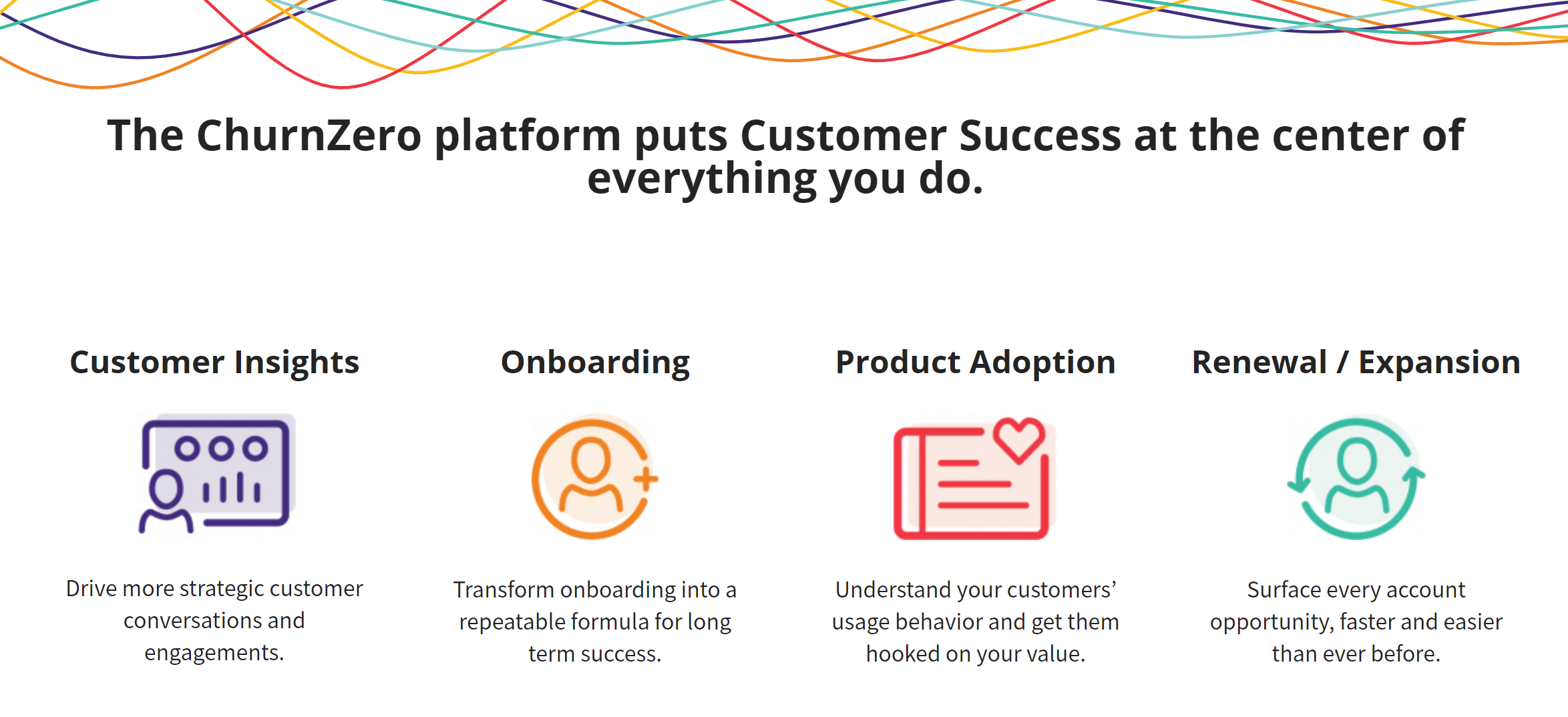 ChurnZero's real-time customer success platform helps subscription businesses fight customer churn. Our platform is uniquely designed to integrate with CRM systems and tightly into an application or service. In doing so, ChurnZero helps businesses understand how their customers use their product, assesses their health and their likelihood to renew, and gives the business the means to automate and personalize the customer experience through timely and relevant touchpoints.
Our network of startup founders has said "ChurnZero is one of the best-driven software tools we have ever used. You can easily set all customer metric requirements and you can analyze them individually, in segments, or in combined trends. If you want a truly data-driven approach to customer success then ChurnZero is a strong contender".
Free Plan – No
---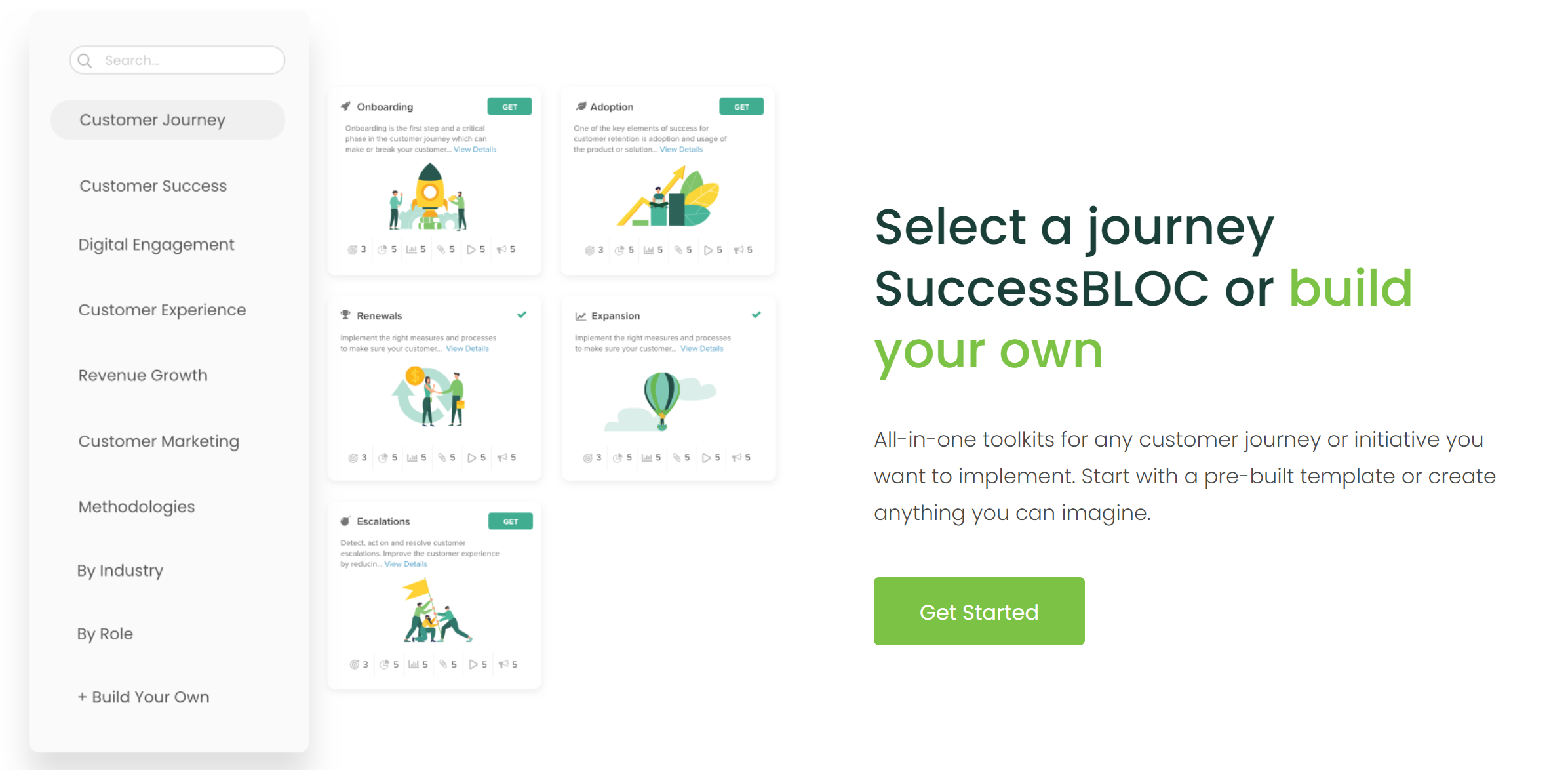 The fastest-growing most trusted Customer Success company in the world, Totango's state-of-the-art software platform helps businesses of all sizes optimize their customer engagement across the entire customer journey. More than 8,000 businesses, including the fastest-growing enterprises like Zoom, SAP, and Google, use Totango to get real-time access to customer health, stay alert to risks and opportunities, and engage proactively and intelligently with their customers to drive evaluation, onboarding, product adoption, renewal, revenue growth, and advocacy.
Our network of startup founders has said "When you read the reviews many talks about their segmentation, and from first-hand experience, we would have to agree that Totango lets you segment your customer success exceptionally well".
Free Plan – Yes
---
Best Team Collaboration Tools
In recent years, the word "collaboration" has been thrown around more than ever before, especially in marketing and other, similar areas of the professional sector. Collaboration tools are indeed one of the most important aspects of any successful business strategy, and the fact is, collaboration means something different for every organization. This depends heavily upon products and services rendered, overarching goals, and more. At its core, collaboration occurs when two or more members of a team work together to solve problems and achieve a common goal.
Our network of startup founders has said "When you read the reviews many talks about their segmentation, and from first-hand experience, we would have to agree that Totango lets you segment your customer success exceptionally well".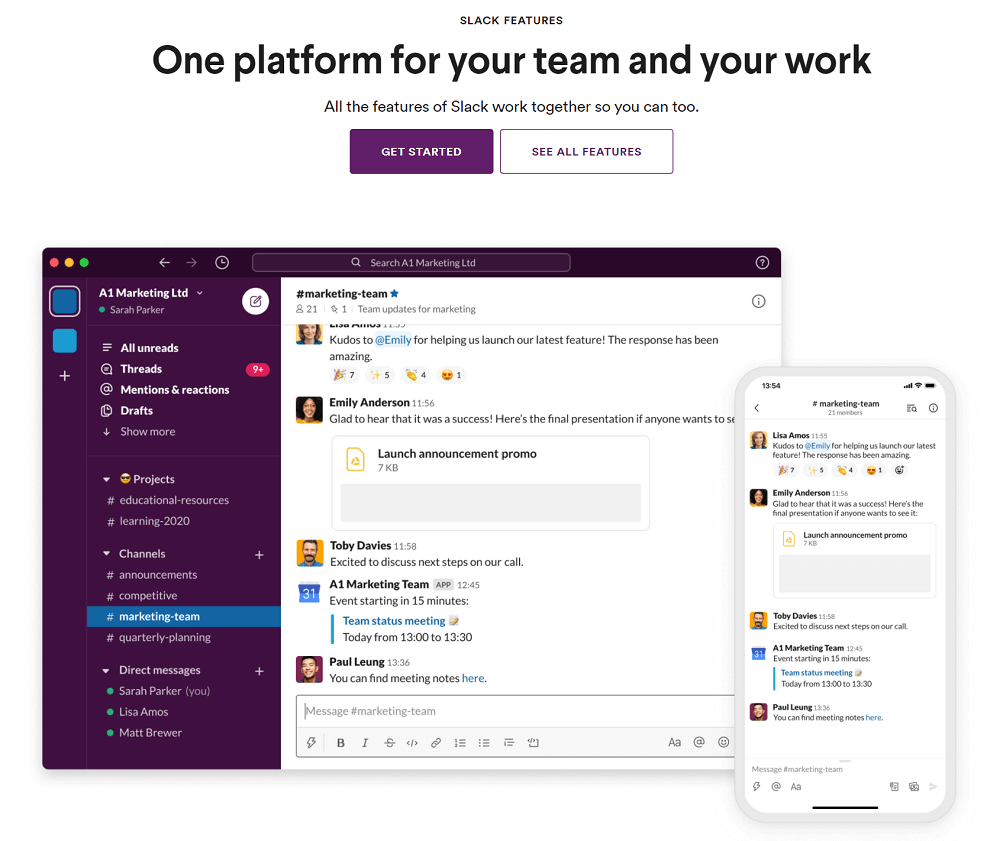 As you grow your startup you will decide whether you create an office environment for your employees or a digital-first culture. Digital-first means encouraging people to work when and where is best for them. It doesn't mean just taking the old ways of working – rigid nine-to-five workdays packed with countless meetings – and recreating them online. It requires a virtual headquarters that supports all ways of working: synchronous and asynchronous, in-person and remote, structured and informal. Slack is a great tool to enable your teams to communicate and collaborate effectively wherever they choose to work.
Our network of startup founders has said "The business impact of the global Covid pandemic has shown that tools like Slack really do help companies communicate effectively. We have seen many companies change how they communicate internally during the pandemic, with less reliance on email and more emphasis on effective digital communication and team collaboration. Slack's freemium plan gives you everything you need to help your teams communicate effectively as you grow. Our main tip is, to use the public channel functionality as much as possible as employee communication through private channels creates information silos".
Check out this free Slack guide.
Free Plan – Yes
---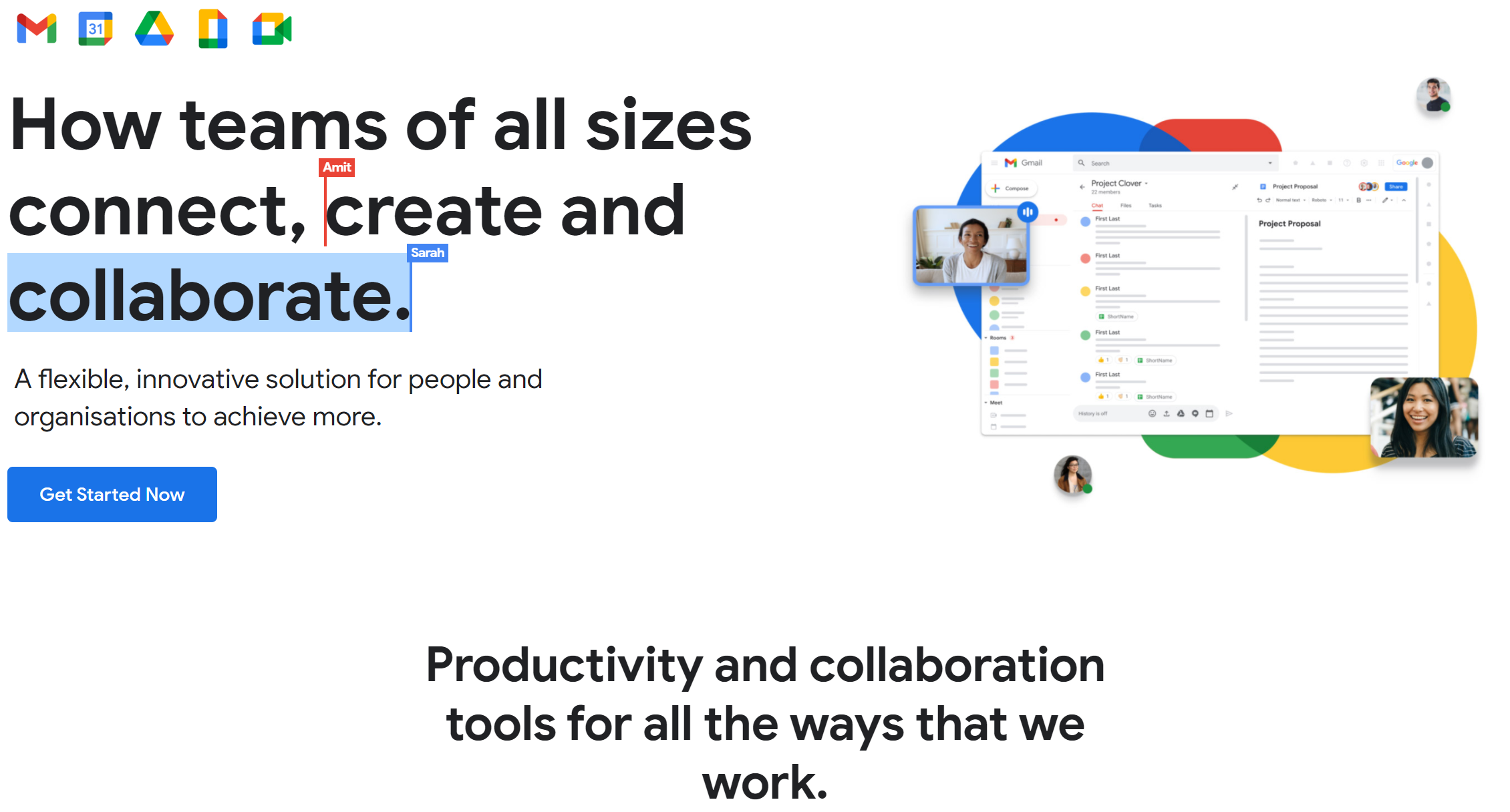 Google Workspace (formally G-Suite) plans to provide a custom email for your business and include collaboration tools like Gmail, Calendar, Meet, Chat, Drive, Docs, Sheets, Slides, Forms, and much more.
Our network of startup founders has said: "Definitely our go-to tool for email, calendars, workspaces, and shared drives. Of course Office365 is still a worthy choice but for us, Google edges it on being user friendly".
See - Google Calendar analytics for tech companies.
Free Plan - No. Free trial then paid plan.
---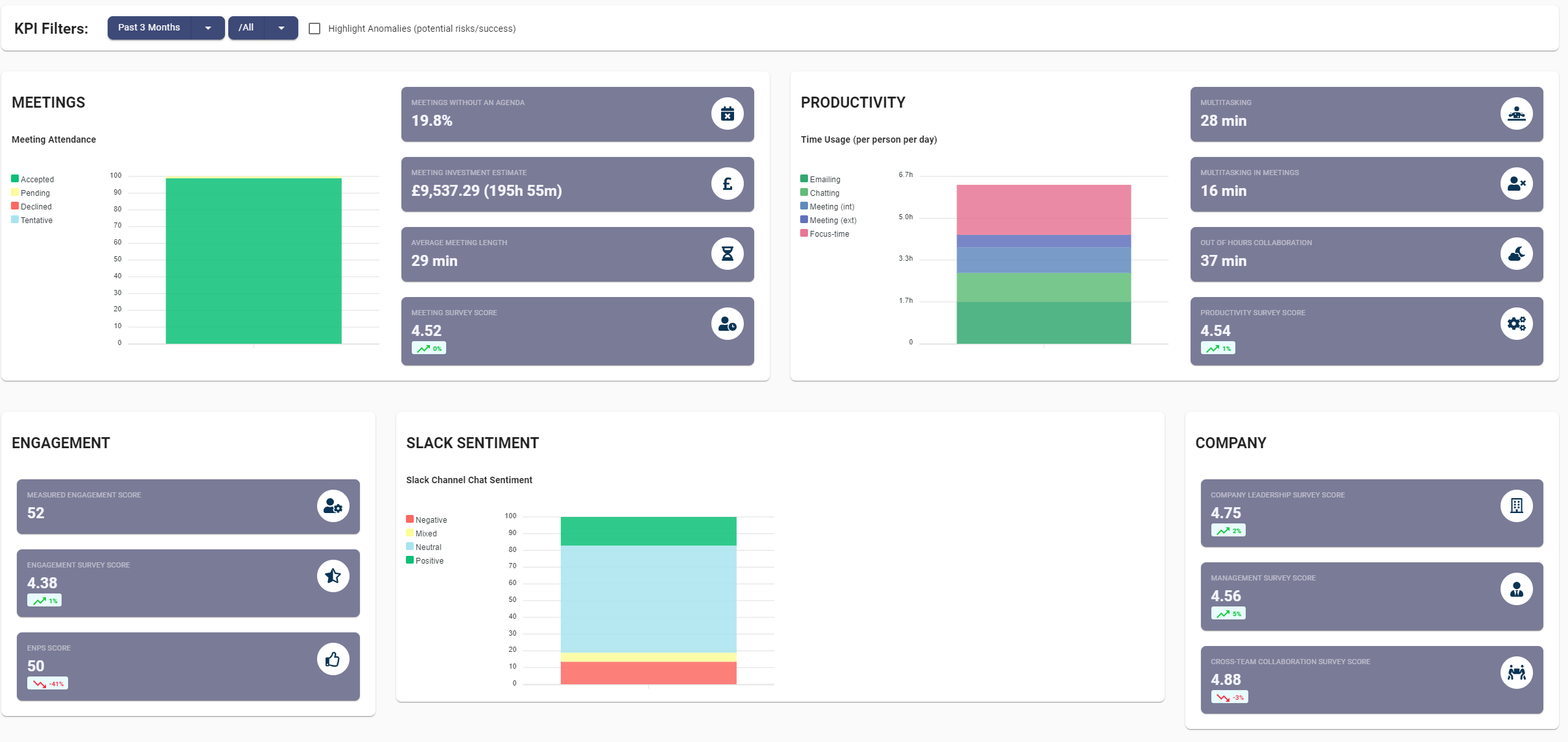 The Flowtrace solution is designed to break down communication barriers and information silos.
Enabling full transparency inside companies enables everyone to contribute more. People's work should never go to waste. More transparency equals more trust, which equals better communication and a more productive workplace for everyone.
Collaboration and readily discoverable information are vital to successful outcomes. Create the foundation for a modern work environment where knowledge spreads seamlessly and it is available when needed.
With integrations to Slack and Google Workspace, the Flowtrace platform enables companies to turn insights into team collaboration excellence.
No startup software tool guide would be the same if we didn't include ourselves in the mix, so we asked our network to give us feedback as well. Our network of startup founders has said "Flowtrace is at the forefront of the 'future of work' movement. If collaboration is important to your startup culture, the Flowtrace gives you the ability to analyze your cross-team collaboration and use actionable insights to improve employee engagement and productivity while breaking down information silos and making important information easily accessible".
Free Plan - Yes.
---
Conclusion
As you can see, there are many to choose from when it comes to the best SaaS tools to help your company grow. If you would like to find out more about how Flowtrace can help you improve team collaboration as your startup grows, kick start the process by checking out our use cases or creating a free account.