40'000+ workdays analyzed FOR 50+ Clients
Olga S.
Founder & CEO of Monshare
"Our teams span multiple continents, now more than ever, gaining deeper insights and transparency from collaboration tools like Slack and Google is business critical"
Head of Growth
Social Media Management Company
Productivity is up significantly, and we can do 30% more work with pretty much the same workforce. Our smaller sales team is closing more deals purely because we are so much more efficient now!
Technical Leader
Network and Monitoring Company
If we know about issues, we can do something about it. One person isn't enough to ring the alarm - we needed to make problems more widely understood and visible for the company to take action.
SVP Sales & Partnerships
Digital Commerce Company
Here's an idea: Try this tool for free, put it in front of your CEO, and threaten to take it away unless they pay. They will just sign it there and then!
Lorenzo De Mattei
Co-Founder & CTO of Aptus.Ai
"Flowtrace helps us get work done faster, and our teams thrive in a more collaborative way of working".
Take back control of Deep-Work time
PRODUCTIVE TEAMS REMOVE BLOCKERS
It's not just innovation, collaboration and productivity that's hindered by organisational silos. It can expose even the most diligent organizations to catastrophic risks.
Take control of your meeting, and productivity culture, and your employees will be delighted.
Recent research found that 71% senior managers think their meetings are unproductive and inefficient. (Harward Business Review)
WORK HANDOVERS THAT PRODUCE RESULTS
Cross-Functional Alignment Matters
Increase productivity and transparency through real-time interaction insights. Flowtrace shows you how your teams work together to benchmark teams within your organisation.
True cross-functional alignment goes far deeper than your strategy, it is part of your culture DNA.
Give your employees a voice
talent retention has never been more competitive
Current research shows that more than 25% of employees plan to quit their jobs in the next 12 months, citing poor communication and collaboration as a main reason.
Our clients average a talent retention rate above 89%, Flowtrace helps you remove sources of friction between teams and departments empowering your employees to be more engaged, productive and efficient.
RECOMMENDATIONS WHICH ARE EASY TO ACTION
INDUSTRY LEADING AI RECOMMENDATIONS
We show you what's holding back your teams, and guide you through the cultural changes with pragamatic "how to improve" guides.
✅ Actionable recommendations based on facts and employee opinions
✅ Industry benchmarks, and new management metrics
✅ Recommendations you can action "right now", in "short term", and in "long term" with extensive support content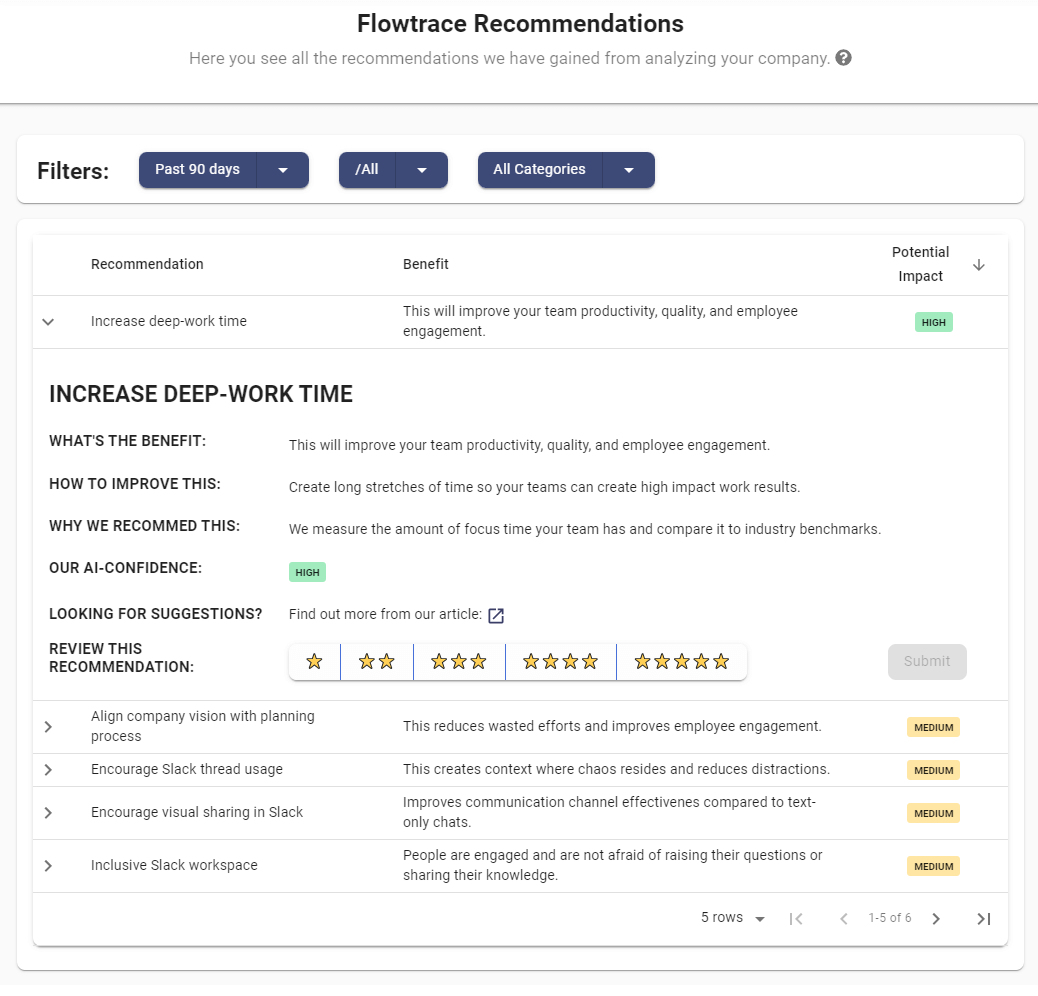 INTEGRATES WITH TOOLS OF Highly Productive Teams

COLLABORATION EFFICIENCY ROI
You could unlock massive business performance benefits when you actively measure and improve team productivity, cross-functional alignment and employee engagement.
You can quickly achieve:
+12% increased team productivity
+15% talent retention improvement
+10% more employee focus-time
*ROI example based on an organization with 100 employees.
£60K
in increased productivity.
£75K
in cross-functional alignment.
£44K
in employee engagement.

Flowtrace connects with your collaboration tools to provide a holistic picture how your organization works. We provide AI-recommendations how you can improve your team's productivity, engagement, alignment, and communication best practices.
Based on our our data analytics and benchmarks of the team best practices you can identify the habits, hand-overs, and processes which drag your team down.
Flowtrace integrates seamlesly to work with your team's favorite tools and creates positive feedback loops for measuring, and improving. Your team will benefit from:
Focus time. Increasing your team's deep-work time you will be able to achieve more, and faster than ever before.
Better collaboration. Gain insights into information silos and bottlenecks to unleash the full potential of your organization.
Employee voice. Ask your team's input to your decission making to guide the solution for the identified issues.
Tool best practices. Use our industry best practice guides and policy templates to improve the way your teams conduct meetings, and use the collaboration tools.
Flowtrace works with founders and leadership teams providing insights into whole organization. Our insights are used by every employee of the company:
Leadership. You get core metrics and KPIs about your productivity, meeting culture, information silos, and communication patterns.
Managers. You have full visibility into your team's time metrics, engagement and management pulse survey results, and how your team interacts with teams around you.
Employees. Your team will benefit from personalized insights into their collaboration patterns, and meeting habits in secured, and private way that is only accessible for them via our Slack App.
Our insights are based on team level metrics which is proven to results into long-term productivity improvements, increased trust between your teams, and aligned strategical effors. We know there are tools which focus on individual monitoring which create exactly opposite effects.
Flowtrace doesn't have team size requirement. Our clients range from 5 to 100s of employees and benefit from the same productivity gains.
Our self-service onboarding takes less than 5 minutes to complete and you will get your first insights right away.
You can add more sources of collaboration events at any time and these takes couple of minutes for common integration or more for complex tool integrations across the data sources.
We often see our clients achieving quick wins in their first weeks of Flowtrace usage. Some long standing cultural changes can take months to rally everyone from the team behind the common goals. This is dependent on the starting situation of your company culture.
We offer free access to our platform for teams up to 15 employees. They will enjoy the access forever free basis. We have custom onboarding offers for larger teams depending on the business case you build.
You data privacy, is our priority. We never store any sensitive information from your collaboration tools and create the insights from metadata of intentional collaboration events to minimize any risk of information leakage.
In all our workings we utilize software industry's best practices and we are open share and discuss any aspect of your security and privacy needs.
You can read more about our commitment to data security from here.