Best Practice Guides
Free Meeting Best Practises Guide & Meeting Policy Template
Improve your meeting culture with our meeting best practices guide and meeting policy template. Learn how to avoid the $500 billion cost of poor meetings.
---
"Meetings at our company are so productive, every meeting has an agenda and a clear purpose. I look forward to every company meeting".
When was the last time you heard that statement? Honestly, I don't think I ever have.
Poor quality company meetings has been a topic of debate for a long time, but still it seems business has not been able to turn the tide of poor quality company meetings into productive meeting best practices, that become part of company culture and positively drive employee productivity and engagement.
Most organisations rely on meetings as an essential component of coordinating projects, work and teams, but inefficiencies in meeting best practice point towards massively growing sunk costs which now equates to nearly $500 billion globally in relation to the 'lost productivity cost impact of poor quality meetings".
"Meetings are a symptom of bad organisation. The fewer meetings the better" (Peter Drucker)
We have all sat through pointless internal meetings (which could have been summarized in a Slack thread or Email). But meetings needn't be pointless. Successful internal meetings bring everyone together to check-in with one another and communicate challenges, actions and needs.
This is why we wrote comprehensive guide on how to conduct meetings, what are the benefits of meeting best practices, and how you can get your whole team onboard great meeting culture. If you are here for the meeting best practice guide, or meeting policy template, jump right into them below, or continue reading to learn more about the common internal meetings.
How to Lead a Great Meeting?
Leading productive meetings goes beyond gathering people around a table or on a Zoom call. In the end, it is all about the experience and understanding how to get most our of a meeting. Our meeting best practice guide demonstrates how a structured approach, coupled with meeting analytics and meeting feedback solution, can unlock a wealth of productivity for new meeting organizers.
Even if you are starting with your meeting organizer career, having a hyper productive meeting might still be out of reach, but, at the very least, internal meetings should keep everyone on the same page. When done well, they increase accountability, engagement, and creative problem-solving.
Effective team meetings go beyond just gathering individuals around a table or on a video call to collaborate. Our meeting best practice guide demonstrates how utilizing a structured meeting practice approach, coupled with meeting analytics and employee feedback, can unlock a productivity treasure trove. When a team comes together to share progress and build on it collaboratively with an agreed-upon agenda in place, it creates better business outcomes.
Let's start by going through the basic company meeting types, so you can choose one for your needs:
Four main types of internal company meetings: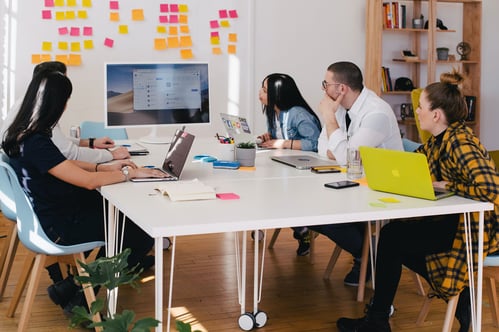 Company All-Hands Meeting
Let's first define what is an all-hands meeting. It is also sometimes known as a town hall, and this meeting is no ordinary meeting. It is the 'BIG' meeting.
Done right, a regular all-hands meeting will drive transparency and alignment within your team and foster your company culture. Done badly, it will be a waste of time, impact productivity and decrease engagement.
If you're new to the concept, or you're in the discovery phase of how to improve your internal meetings, our meeting template is a great place to start.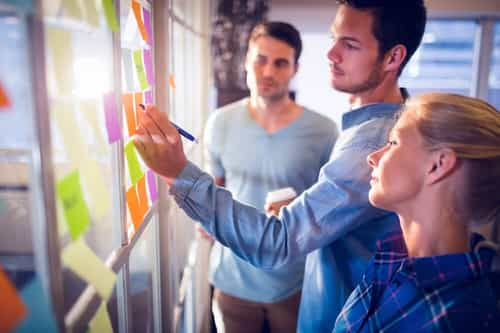 Team Meetings
Team meetings are a key component within fast growing businesses, it is important for employees to know and understand what's going on with the company and what expectations they need to meet in order for the company to be successful. This is how team meetings can leverage the purpose of all-hands meetings and expand a culture of continuous improvement.
Generally team meetings happen weekly or bi-weekly within specific departments.
Team meetings are most effective when everyone is focused on specific objectives.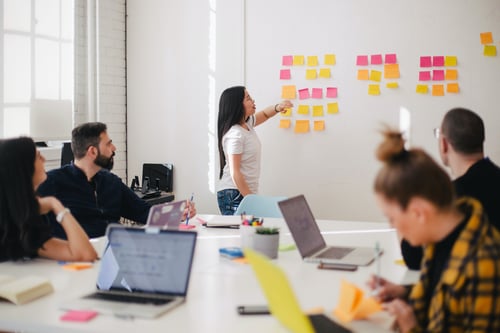 Management Meetings
Management meetings can impact your internal meeting culture. If you lead by example, all other internal meetings will improve, using the IEEI framework is great place to start: Inform, Excite, Empower, Involve.
Inform. Share the purpose of the meeting.
Excite. Explain why the outcome of the meeting is important.
Empower. Describe the authority that has been given to meeting participants.
Involve. Use engaging questions or round-table discussions that furthers the meeting's goals.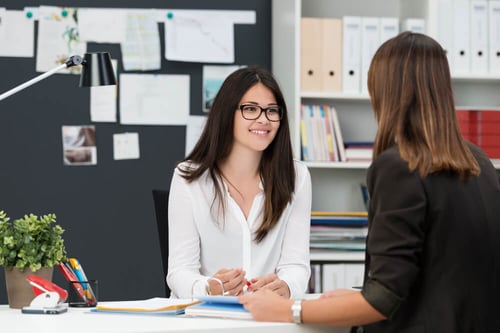 1 on 1 Meetings
1:1, 1 on 1, or One-to-one meetings, are meetings where direct reports often feel more hurried and disorganized than they need to be. This meeting is the most important way to engage with your employees.
It's important to check in regularly with each of your employees, but how can you make the best use of the time?
How can you make the meetings more productive and collaborative?
What do you need to change as a leader and what do you need to ask your direct report to do differently as well?
A one-to-one meeting provides a good basis for a manager and direct report to establish respect for one another, without either person feeling their time is being wasted.
Impact of Poor Quality Meetings
The evidence about a global culture of poor quality meetings is quite startling, we have compiled meeting statistics from leading research source to highlight the growing problem.
Research and statistics have been compiled from Timely, HR Digest, Harvard Business Review, Condeco, The Muse, Atlassian, National Bureau Of Economic Research and Doodle.
The pandemic showed an overall increase in the amount meetings per employee, but a decrease in the average meeting duration:
A recent survey by renowned researchers from Harvard Business School found that employees have been attending more virtual meetings than in-person.
It was also observed that the number of meetings attended by a worker on average rose by 13.5%.
The researchers found a 20.1% decrease in the average length of meetings.
The average meeting count rose from 5.9 meetings, which were observed before the lockdown, to 6.9 meetings.
In 2020, 36% of the meetings' duration was evaluated to be 30 minutes, while only 20% of meetings ran for one hour.
The second most common meeting length was 15 minutes for 31% of the meetings held.
The Cost of Poor Quality Meetings
We all need to have less meetings!
11 million meetings are held each day, which means that 55 million meetings are held per week, and 220 million meetings are held per year.
15% of an organization's time is spent in meetings, which has increased every year since 2008.
It has been observed that middle managers spend 35% of their time in meetings.
The employees in upper management spend 50% of their time in meetings.
Research suggests that employees spend 4 hours per week, preparing for status update meetings.
A recent survey found that 67% of employees complain that spending too much time in meetings hinders them from being productive at work.
More than 35% of employees found that they waste 2 to 5 hours per day on meetings and calls, but they achieve nothing to show.
Ineffective Meetings Cause Employee Disengagement
Poor quality meetings are a fundamental reason for employee disengagement, poor collaboration and slow decision making.
Most employees attend 62 meetings per month, where half of the meetings are a complete waste of time.
Executives consider 67% of meetings a complete failure in communicating the sole purpose of conducting them.
A survey suggests that 92% of employees find themselves multitasking during meetings.
41% of respondents confess that they often multitask or all the time during a meeting.
69% of employees check their email frequently during a meeting
49% of employees admitted that they do other unrelated work during meetings rather than paying attention to the meeting agenda.
A report suggests that 91% of employees daydreamed during their meetings. In comparison, 45% felt overwhelmed by the sheer number of meetings they attended.
Lost Productivity Because Poor Meeting Culture
A survey of 182 senior managers found that 71% of them feel that meetings are unproductive.
45% of senior executives feel that productivity can be increased among the workforce only if meetings were limited to at least one day a week.
Managers and professionals lose 30% of their time in meetings that they could have invested in other productive tasks.
Ineffective meetings make professionals lose 31 hours every month, which sums up to 4 working days.
Sitting in useless meetings drains an employee off their energy, brainpower, and stamina. After coming out of an unproductive meeting, an employee needs some time to recover, affecting their productivity.
44% of participants in a survey said that sudden or unscheduled meetings mean that they do not have enough time to focus on their work.
95% of meeting attendees lose focus and miss parts of the meeting, while 39% doze off at meetings.
How to Improve the Meeting Culture
We have compiled a Meeting Best Guide, including an internal meeting policy template which you can easily edit and share with your teams. You can alternatively view our meeting culture toolbox to see how we automate meeting feedback and review process to take the more advanced step with your meetings.
Our company meeting best practice guide covers all the essential about how to improve the quality of company meetings and how to use meeting templates for quick wins you can implement right now.
Access more free resources to improve productivity, cross function collaboration and employee engagement