CONNECT
Connect with 1 or more collaboration tools
You data privacy, is our priority!
You have complete control of the data we have access to. You can connect more tools when you are ready and understand the value of the solution.

We utilize software industry's best practices and we are open to share and discuss any aspect of your security and privacy needs.

You can read more about our commitment to data security from here.
ANALYZE
Our AI finds you the insights you need
We never store sensitive information from your collaboration tools.

Your data is read only once, and analyzed to extract its metadata (to, from, when, where, type) before we store it into our system. We do this to minimize the risk of any accidental information leakage.

All our AI insights are based on the metadata of intentional actions your employees take and these are aggregated to maintain privacy.
Action
Use our recommendations or decide yourself
We often see our clients achieving quick wins in their first weeks of Flowtrace usage.

Some long standing cultural changes can take months to rally everyone from the team behind the common goals.

All this is dependent on the starting situation of your company culture, and how committed your team is improving the current situation.
TAILORED MEETING RECOMMENDATIONS
INDUSTRY LEADING AI RECOMMENDATIONS
What's holding back your team's decision making, and pragamatic "how to improve" guidance?
✅ Actionable recommendations created from facts and employee opinions
✅ Industry benchmarks, new management metrics, and best practices
✅ Recommendations that you can verify with actionable "how to" instructions
Flowtrace AI uses multiple sources of information to create its industry leading recommendations. We show you estimated impact, and confidence level we have for the recommendation so you can trust us.
Our recommendation are created based on data insights, employee survey answers, trends, and graph theory metrics. When we compare your company to other similar companies we are able to show where you stand against your peers.
With Flowtrace analytical visualization you can refine, and deepen your understanding of the issues before you take an action. Our customer success team is always one message away to give you more insights about the recommendations.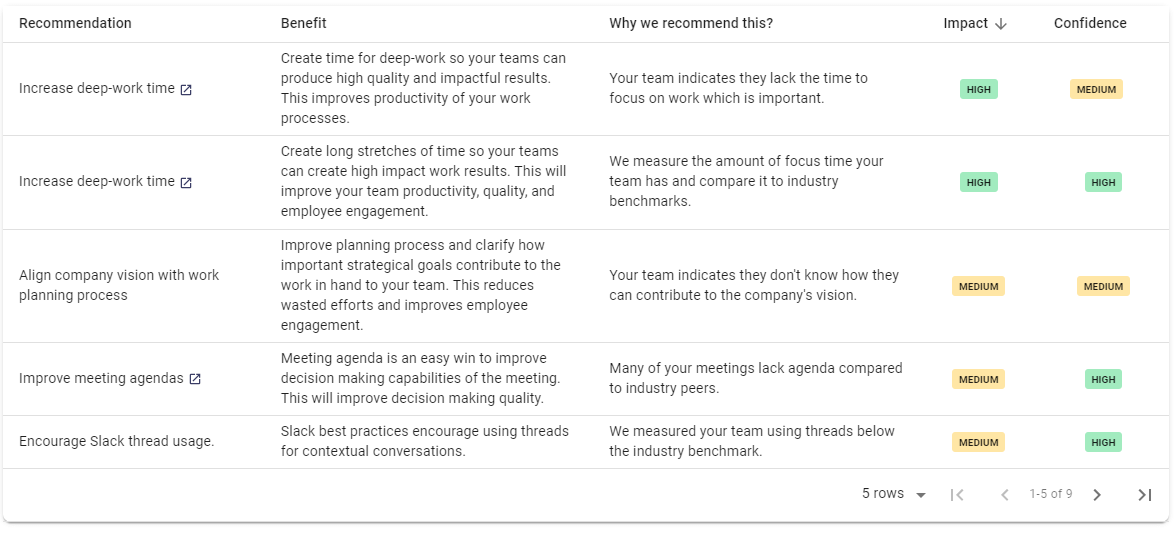 Gamified Feedback loops
How can I help my teams improve our meeting habits?
✅ Gamified punctuality score for your employees
✅ Feedback loops for meeting organizer and attendees
✅ Meeting best practices and guides for self-development
YOUR EMPLOYEES GAIN ACCESS TO THEIR OWN ANALYTICS SO THEY CAN OPTIMIZE THE WAY THEY PREFER TO WORK.
We provide every employee in-depth analytics about their work day and how they utilize their time. We support these with pragmatic best practice guides and self-help content.
The employee level view is 100% private to each individual and accessed using our Slack integration. These details are not available to anyone else, and are designed to give a factual view to each individual employee.
Our clients see instant improvement when they adopt our gamified scoring and review meeting insights. They are designed to empower your team members to control positive meeting culture factors such as punctuality, and meeting organization skills and reduce negative impacts of meeting overload and meeting multitasking.
Recurring Cross-functional Meetings
Are my cross-functional meetings effective at decision making?
✅ Reveal the attendance of right people and teams
✅ Does the attendance meet the purpose and set goals
✅ Complete details for any meeting, recurring or one-off
Most organisations rely on meetings as an essential component of coordinating projects, work and teams, but inefficiencies in meeting best practice point towards massively growing sunk costs which now equates to nearly $500 billion globally in relation to the 'lost productivity cost impact of poor quality meetings".
When it comes to improving the effectiveness of your meetings, having the right calendar analytics is a great place start and set the tone for a more productive meeting culture.

"Meetings are a symptom of bad organisation. The fewer meetings the better" (Peter Drucker)
Meetings needn't be pointless. Successful internal meetings bring everyone together to check-in with one another and communicate challenges, actions and needs.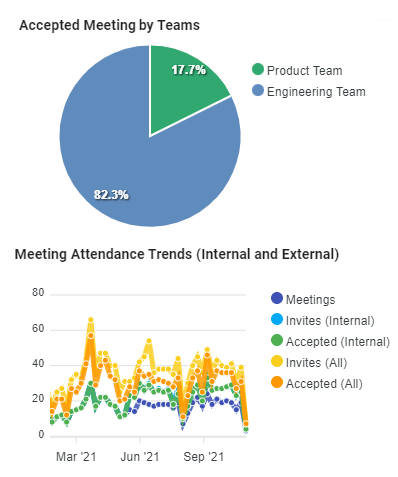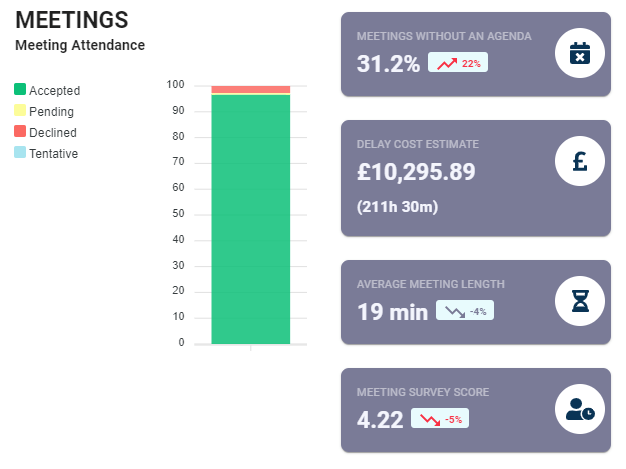 FOSTER Productive Meeting Culture
This meeting could have been an email?
✅ Agendaless meeting metrics
✅ Meeting delay cost estimates
✅ Complete public calendar analytics
"MEETINGS AT OUR COMPANY ARE SO PRODUCTIVE, EVERY MEETING HAS AN AGENDA AND A CLEAR PURPOSE. I LOOK FORWARD TO EVERY COMPANY MEETING".
When was the last time you heard that statement? We don't think we ever have.
Poor quality company meetings has been a topic of debate for a long time, but still it seems business has not been able to turn the tide of poor quality company meetings into productive meeting practices, that become part of company culture and positively drive employee productivity and engagement.