GAIN Competitive advantage with Effective team COLLABORATION
A systematic approach to understanding your cross-team collaboration.
We give you insights to optimize how your teams collaborate and get work done in your company.

You can remove the communication barriers, break down the information silos and gain competitive advantage powered by your people.
BUILD CROSS-FUNCTIONAL RELATIONSHIPS
How will better cross-function alignment benefit you?
✅ Complete team relationship map for remote or hybrid world
✅ Build intentional bridges between siloed and excluded teams
✅ Identify teams left behind and bring them together
✅ Take advantage of strong relationships for critical projects
Stronger team relationships for better business outcomes.
With Flowtrace you can quickly analyze how your team's collaborate and communicate with one another.
We visualize your team's preferred collaboration tools, and highlight where cross-team collaboration could be made more efficient and effective.

We also uncover how your teams are communicating, and how this changes over time, so you can identify collaboration bottlenecks and remove communication friction.
Actively managing your inter-team relationships is the most important aspect of cross-team collaboration effectiveness.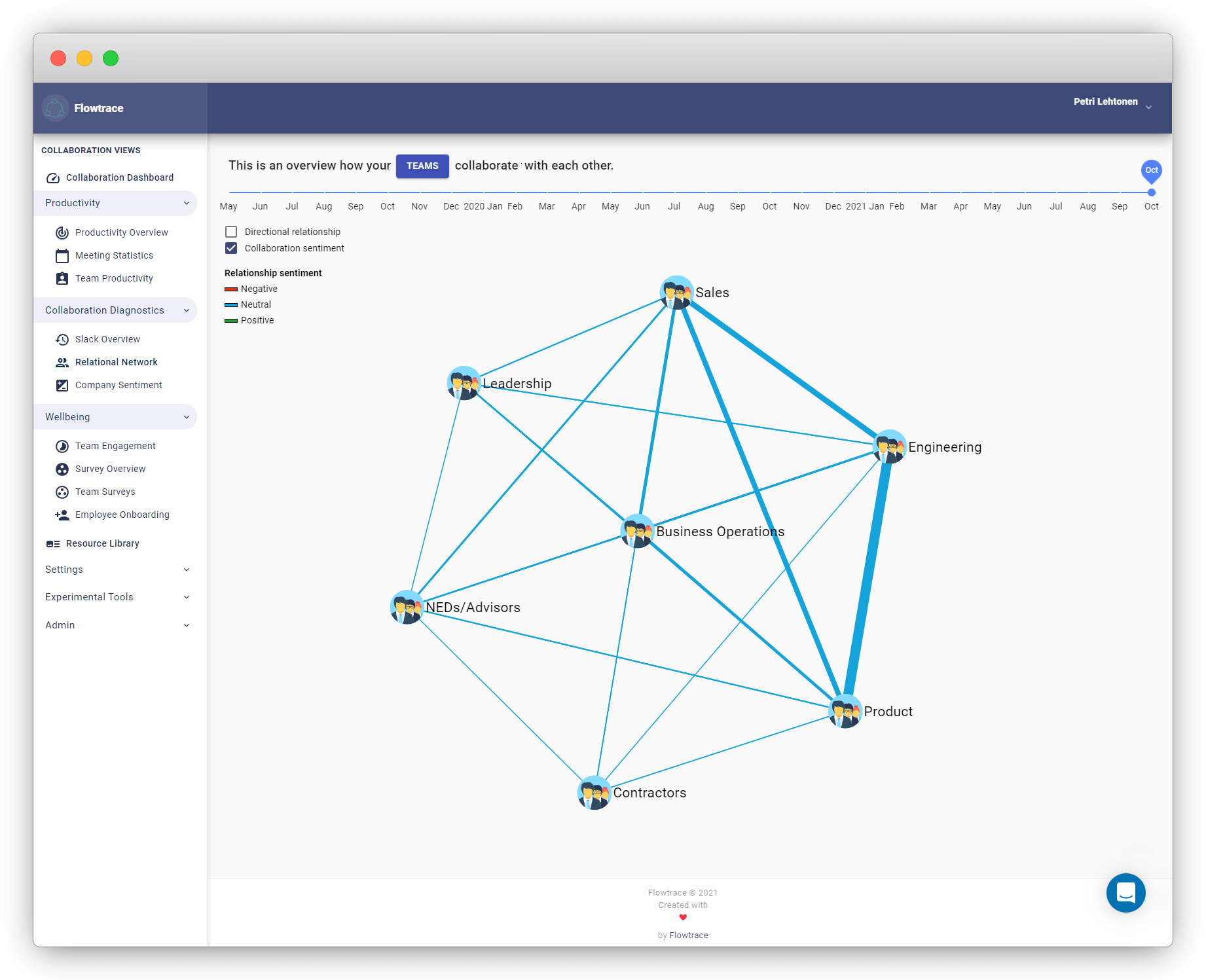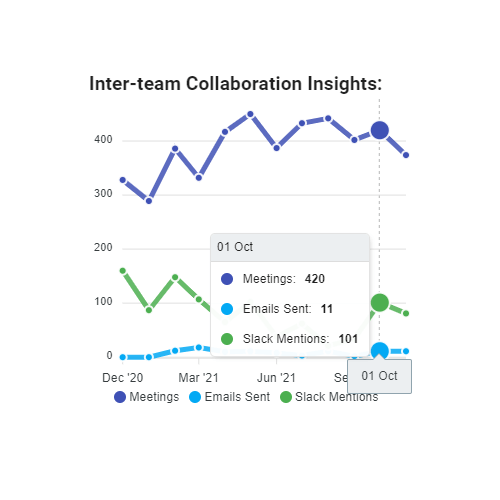 COMPLETE DETAILS OF TEAM RELATIONSHIPS
How can my teams work more closely together?
✅ Understand, replicate, and enjoy the success across every team
✅ Historical view how the relationships develop
✅ Identify weak aspects of the relationship to improve upon
Actively managing your inter-team relationships is the most important aspect of cross-team collaboration effectiveness.
This is where the work gets passed across your organization. You cannot outsource this work to your HR department as they are watching your organization from the side-lines of the work that creates value to your clients.
DESIGN PURPOSEFUL INTERACTIONS
Why my tasks and projects are falling between the cracks?
✅ Great handovers designed with team, and collaboration tool filters
✅ Match project team schedules to maximize the overlap
✅ Identify team gaps to provide superb client experience
If you don't create enough overlap between teams you increase the risk of tasks falling between the cracks.

The risk of tasks which should take couple of hours taking days on end increases if your timezone and working time overlaps are not aligned.
You don't want to create a culture where important tasks are hurried from team to team as the quality of the output suffers.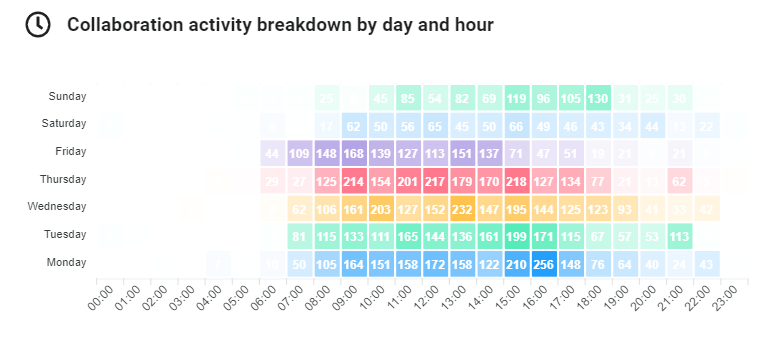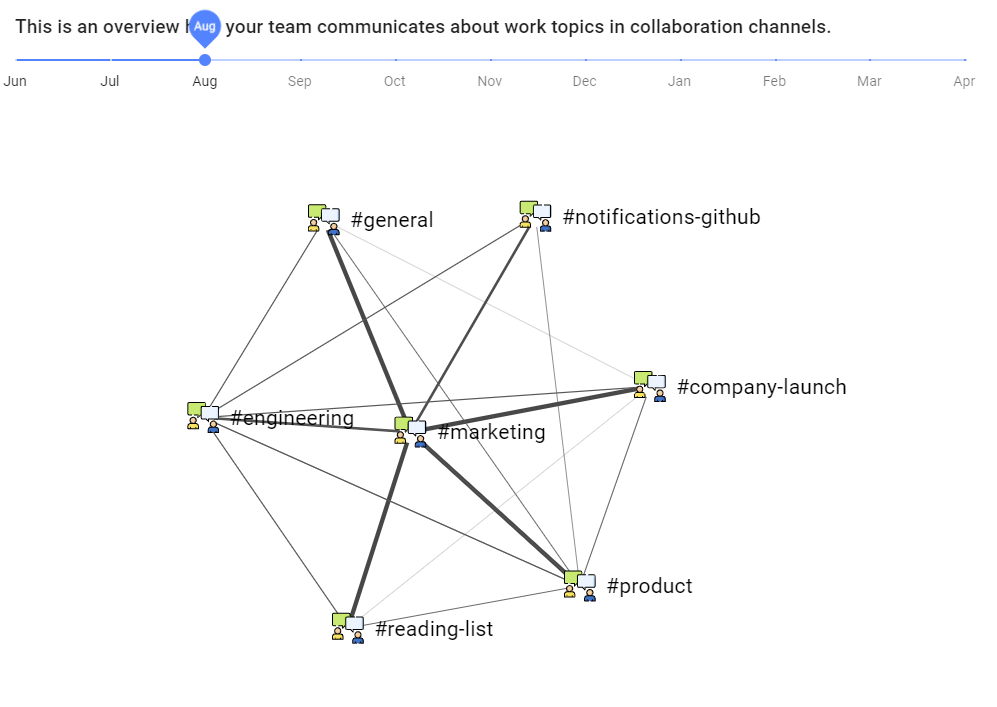 BREAK DOWN ORGANIZATIONAL SILOS
Is it frustrating we repeat questions and people are working on outdated documents?
✅ See company silos now, and in the past with team, and topic filters
✅ Develop strategies to share information transparently
✅ Design intentional knowledge sharing patterns
Communication channels, especially private channels, creates information silo complexity for your organization.

If your employees are sharing information through Slack private channels for example, this creates a silo of information which could be leveraged by your whole team and future employees.

Flowtrace helps clients to achieve 'Slack Public Channel Best Practices' creating a culture information transparency which is easy to find.

By analyzing, maintaining and optimizing your public communication channel network best practices, you can quickly identify weak communication channels, be able to track important information flow, and measure communication aligned to your company objectives.
TOPICS AND SENTIMENT
Are we working on the meaningful topics and how I can ensure the support they require?
✅ Know when you strategic message permeates your teams
✅ Early identification of struggles increases team satisfaction
✅ Offer time, support and space for problem solving
YOUR PEOPLE ARE KEY TO YOUR SUCCESS, UNDERSTANDING HOW THEY COMMUNICATE AND COLLABORATE UNLOCKS YOUR FULL GROWTH POTENTIAL.

By extracting meta-information of public channel communication touch points you can identify the topics that most influence communication and collaboration in your organization.

As your company grows new employees will join, people will leave, teams will be reorganized and new teams will be created, Flowtrace provides everything you need to accelerate your communication and collaboration across your entire organization.