We help you understand and optimize how engaged your employees are.
With Flowtrace you are able to increase your employee retention and provide the right support to individual employees or teams to maximize engagement and alignment with your company vision.
Create SURVEYS YOUR EMPLOYEES Will Enjoy giving feedback.
Your pulse surveys should be done in a format and via a medium your employees interact with every day to ensure timely, and accurate reflection of reality.
We conduct our pulse and eNPS survey using our Slack integration which increases response rate, and reduces the burden of creating and sending long form surveys.
Early issue identification with your team collaboration patterns is important, and you can launch further in-depth surveys to understand more about the root cause for impacted employees.
Flowtrace employee surveys provide you with a continual flow of suggestions, and details about potential problems that otherwise could remain hidden.
Through our integrated employee surveys Flowtrace clients benefit from increased levels of employee engagement, productivity and talent retention.
Team Engagement and Employee Wellbeing
Organizational changes shouldn't cause DISRUPTION or disengagement.
Changes in an employee's current role, team, project, personal life or mental well-being can all lead to disengagement.
It is in everyone's be interests to have a conversation and understand in more detail how the relationship and employee has been impacted, and what measures can be put in place re-balance engagement.

Based on various social and communication network analysis metrics, we can predict the risk of any given employee becoming disengaged or worse, being at flight risk.
By combining prediction factors with a statistical analysis of all collaboration metrics, we can calculate employee engagement, sentiment, influence, connectedness, and disengagement scores.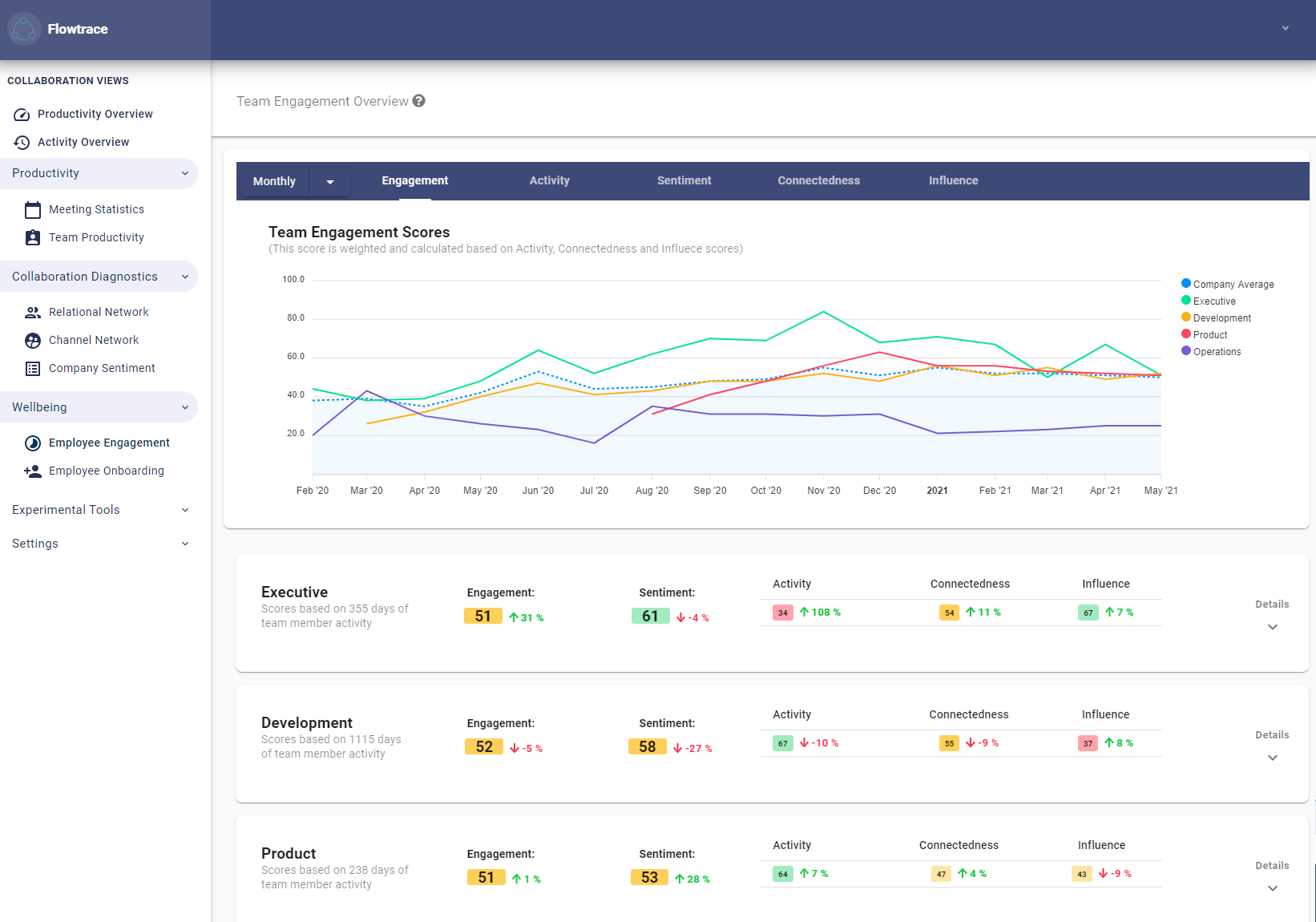 Onboard new hires more EFFICIENTLY and effectively.
Benchmark how your employee onboarding differs by the way individuals and teams collaborate.
Once you understand the pace at which a new employee is connecting with other employees, you will know the right time to start introducing new critical connections and information to the employee.

See who your rising stars are and who you should be supporting more.
Flowtrace enables you to benchmark and then tailor the onboarding processes for each team member to support their role-specific goals.
Weekly Team Collaboration Summary
Be the First to Know When Something is not right
How often have your thought in hindsight we could have saved that client account, released that product faster or completed a project more efficiently?
With Flowtrace automated alerting, you can be in the know about every important conversation that happens, topic sentiment or collaboration trend and how your team communicates about what they are working on.
Your weekly summary alerts are fully anonymized to maintain employee privacy.

Your employees will be delighted when you offer help proactively even if your weekly summary shows everything important is under control.
Why Is Employee Sentiment Analysis Important?
Employee Disengagement is a growing problem.
Flowtrace powers a single view of the trends about your employee and team sentiment. Broken down by each day and time of the day, you can measure sentiment in real-time.
You can quickly drill down and segment any metric which is 'out of the norm' to get the full picture of what is impacting employee sentiment.