Stellar business performance WITH Productivity Analytics
A systematic approach to optimizing team productivity and deep-work time.
We help you understand and improve how work really gets done in your company.
You will gain more productive workforce, strategical alignment and better business outcomes.
CONNECT
Connect with 1 or more collaboration tools
You data privacy, is our priority!
You have complete control of the data we have access to. You can connect more tools when you are ready and understand the value of the solution.

We utilize software industry's best practices and we are open to share and discuss any aspect of your security and privacy needs.

You can read more about our commitment to data security from here.
ANALYZE
Our AI finds you the insights you need
We never store sensitive information from your collaboration tools.

Your data is read only once, and analyzed to extract its metadata (to, from, when, where, type) before we store it into our system. We do this to minimize the risk of any accidental information leakage.

All our AI insights are based on the metadata of intentional actions your employees take and these are aggregated to maintain privacy.
Action
Use our recommendations or decide yourself
We often see our clients achieving quick wins in their first weeks of Flowtrace usage.

Some long standing cultural changes can take months to rally everyone from the team behind the common goals.

All this is dependent on the starting situation of your company culture, and how committed your team is improving the current situation.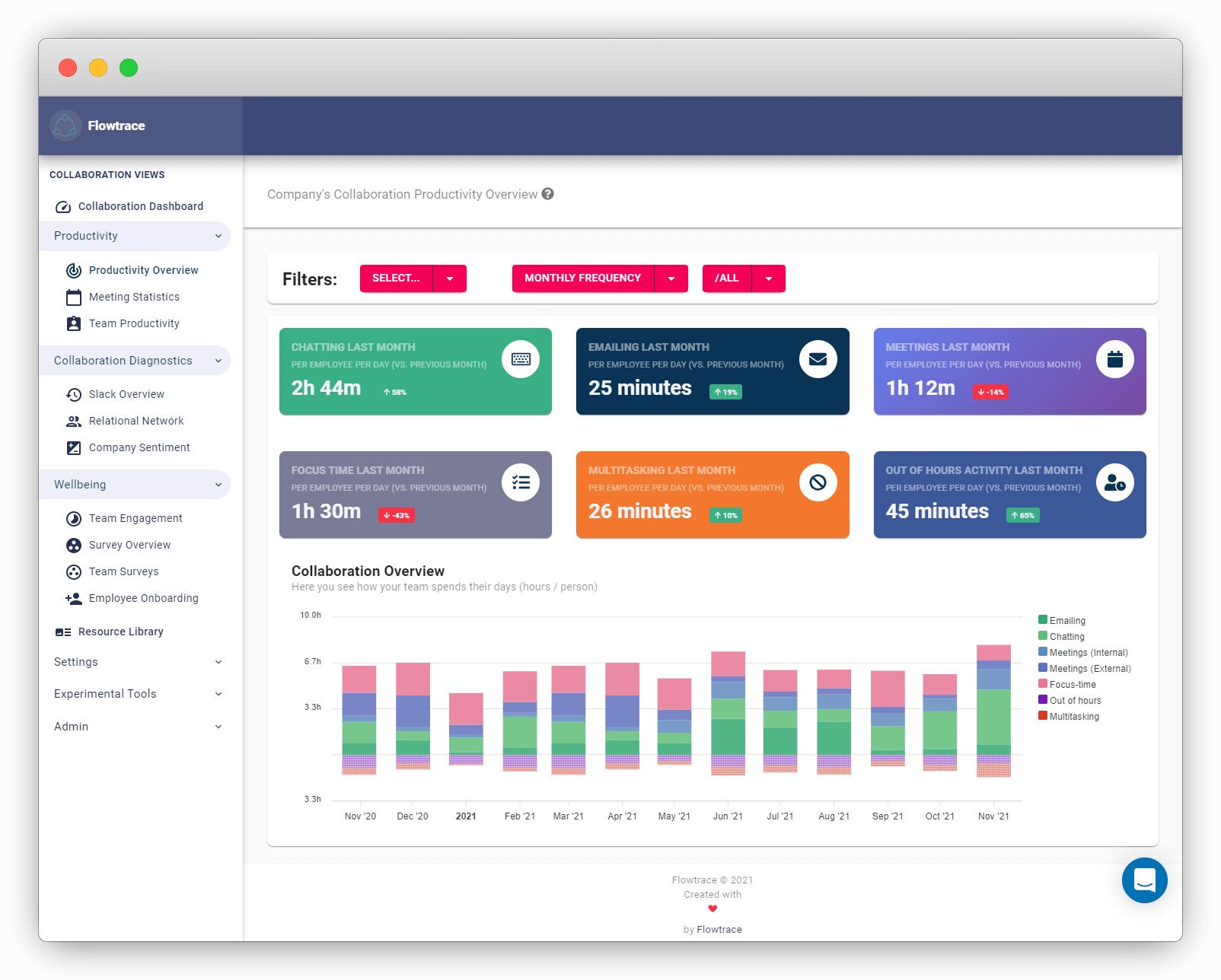 REAL-TIME PRODUCTIVITY INSIGHTS
Was today a productive day?
✅ Deep-work time analytics
✅ Collaboration insights
✅ Trends and historical benchmarking
We do our best work when we have time to focus on the topic in hand. It takes up to an hour to get into a flow state of mind where we are fully immersed into the subject and detail of it.
Delivering valuable work output is one side of the coin. The deliverable needs to be aligned with other teams, timelines, and needs of clients. This is why we track the time of internal, and external collaboration across your teams.
Creating a company culture where deep-work is balanced with collaboration produces the best business results.
The need for deep-work time and collaboration differs between the teams. We provide you insights team by team basis so you can choose the right path for your teams.
REMOVE DISTRACTIONS AND HARMFUL HABITS
How can I make tomorrow better for my team?
✅ Reveal your multitasking statistics
✅ Out-of-hours collaboration metrics
✅ Start with highest impact using team benchmarking
We might feel productive when we juggle multiple things at a time but this is just an illusion. Time and time after again its proven that multi-tasking is harmful habit for productivity and multitasking metric is something you can use to guide your team's behavior.
Out-of-hours collaboration is single biggest reason why people start to feel burnt out. Occassional project deadline should never become the norm as you will rack up costs with mistakes, missed deadlines, remedial work, and staff attrition.
Finding the source of poorly planned days with team benchmarking unleashes the productivity of your company.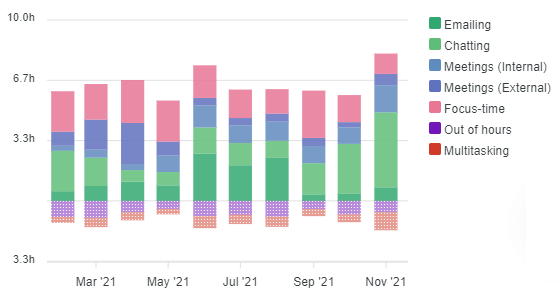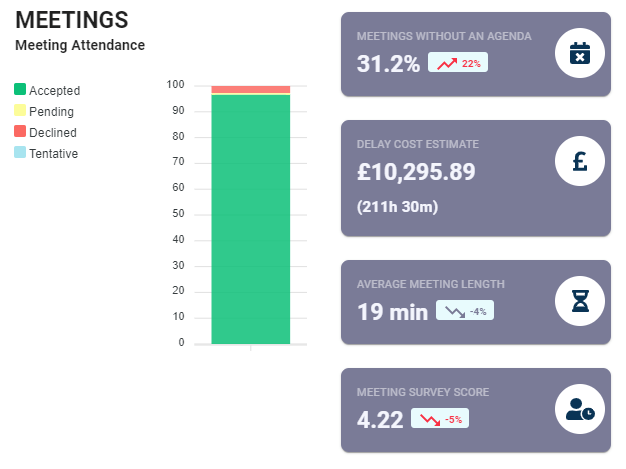 FOSTER Productive Meeting Culture
This meeting could have been an email?
✅ Agendaless meetings metric
✅ Meeting delay cost estimate
✅ Complete public calendar analytics
"MEETINGS AT OUR COMPANY ARE SO PRODUCTIVE, EVERY MEETING HAS AN AGENDA AND A CLEAR PURPOSE. I LOOK FORWARD TO EVERY COMPANY MEETING".
When was the last time you heard that statement? We don't think we ever have.
Poor quality company meetings has been a topic of debate for a long time, but still it seems business has not been able to turn the tide of poor quality company meetings into productive meeting practices, that become part of company culture and positively drive employee productivity and engagement.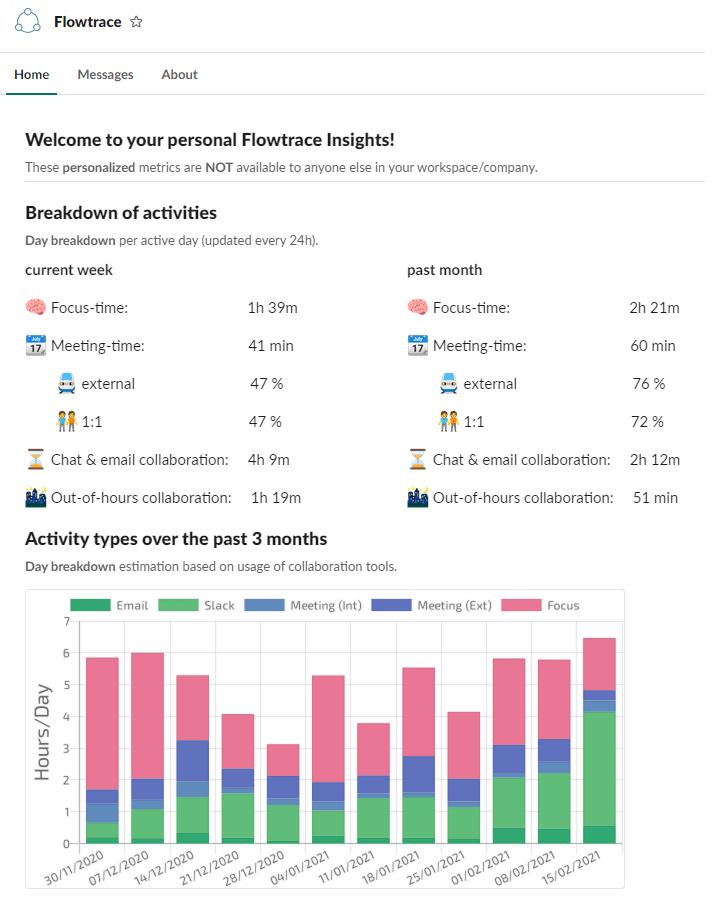 Tailored Insights for everyone
How I can help my teams improve their daily work?
✅ 100% private metrics for every team members
✅ Everyone has control of their own working day
✅ Know when to restructure your work plans
YOUR EMPLOYEES GAIN ACCESS TO THEIR OWN ANALYTICS SO THEY CAN OPTIMIZE THE WAY THEY PREFER TO WORK.
We provide every employee in-depth analytics about their work day and how they utilize their time.
The employee level view is 100% private to each individual and accessed using our Slack integration.
These details are not available to anyone else, and are designed to give a factual view to each individual employee.
You can empower your team members to take control of positive productivity factors such as focus-time and cross-team collaboration, whilst reducing negative impacts on employee well-being and employee efficiency like multi-tasking and out-of-hours collaboration.