Meetings
Zoom Analytics: Improve your meeting punctuality
Use our analytics to improve the punctuality of your Zoom meetings. Flowtrace has a built-in punctuality rating score to help teams improve efficiency.
---
Video meetings have surged since the pandemic hit back in 2020, and with good reason. They're an easy way to hold meetings and communicate with co-workers, clients, and customers without having to leave your home, or now, the office. In particular, Zoom has become one of the most used software platforms for video meetings, and with the introduction of Flowtrace Zoom analytics, teams can now optimise those meetings for efficiency.
With more companies and individuals using Zoom to manage their teams and run regular meetings, the reality of Zoom fatigue is starting to set in. It's important to understand how you can use the software to your advantage and make the most out of every meeting, reducing fatigue, improving punctuality, and actually saving your company money. It's estimated that employee lateness costs UK economy by whopping £9 billion annually.
Zoom analytics is a feature that gives you insights into your video meetings so you can see how they're going, what worked well, and what didn't. We have incorporated these metrics into our existing calendar analytics data to give most insights to your team.
Team Punctuality Problems on Zoom
If you've been noticing that teams are regularly late to your Zoom meetings, it might be time to take a closer look at the data. In particular, you can use the "Attendance" report to see how many attendees join your meeting on time and how many are late.
This information can help you to understand if there are any patterns emerging, such as certain meetings, days, or times of day when people are more likely to be late.
You can also use this data to identify which teams are consistently late and address the issue with them directly. This could be down to meeting fatigue, scheduling conflicts, or a number of different issues.
It's important to note that being punctual for meetings is not only important for ensuring that everyone is on the same page, but it's also a sign of respect for your coworkers.
If you want to create a productive and positive team environment, it's crucial that everyone is making an effort to be on time for Zoom meetings.
Flowtrace & Zoom Analytics Integration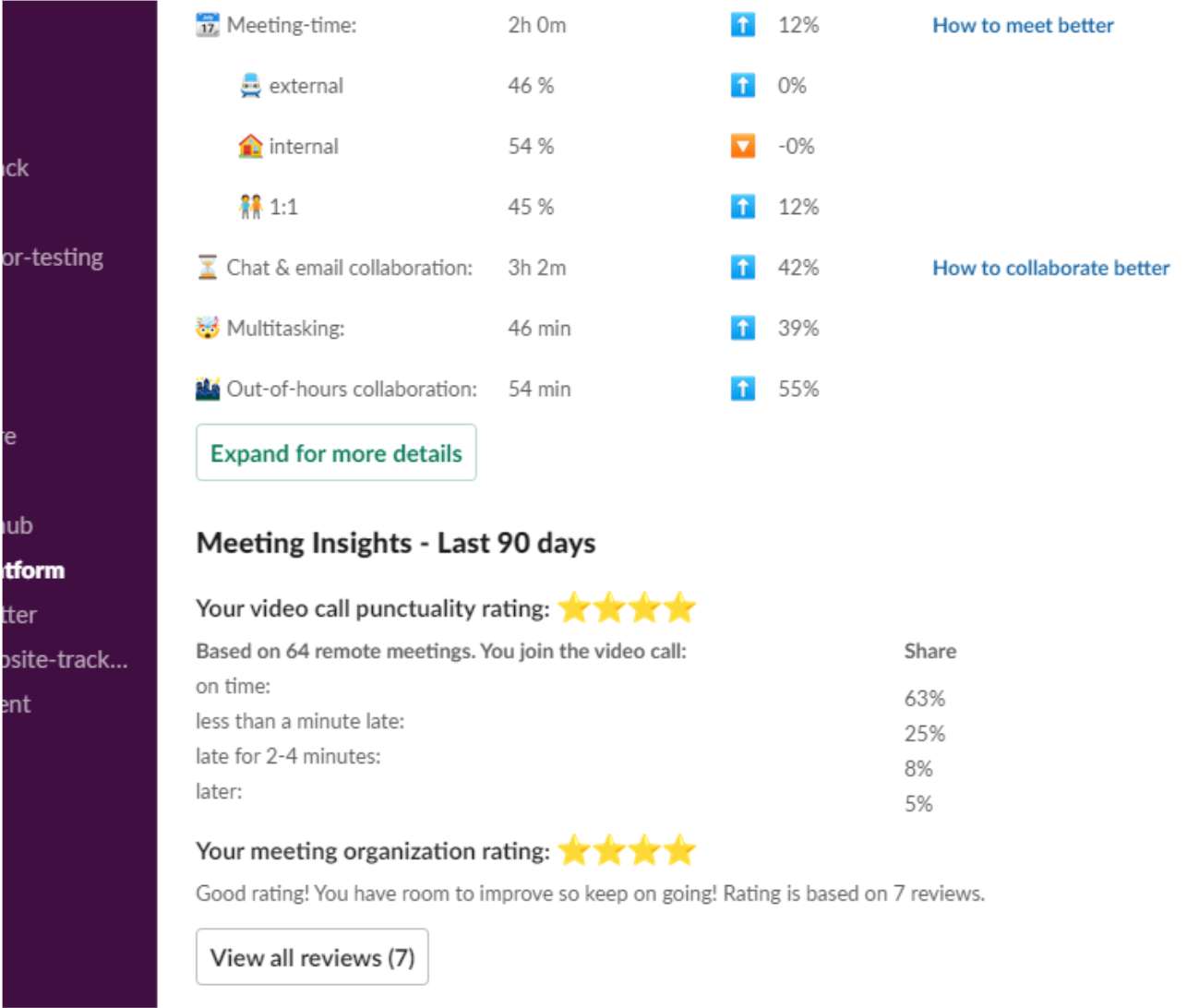 Flowtrace offers an in-depth look at meeting data that empowers everyone, meeting organizers to attendees to improve punctuality and create a positive company culture. We aggregate all data to a meeting, team, or company level to maintain the privacy of individual employees. It also only takes 2 minutes to integrate and use us.
Zoom Analytics can be linked with other Flowtrace collaboration tools integrations in order to access even more in-depth meeting data. This data can be filtered and presented in a simple interface to help leaders, teams, and employees identify which meetings are late, how often, and even the root cause of the delays.
In addition, Flowtrace can be used to calculate punctuality ratings and allow team members to compete for high score, encouraging punctuality with rewards. Our clients have seen improvements in teams where this has been encouraged; if team members share their punctuality ratings, it encourages other team members to improve their rating, improving the overall punctuality of that team.
This is an invaluable tool for managers who want to get a better understanding of how their team interacts in meetings and identify any recurring punctuality issues that need to be rectified.
Cost of Meeting Delays
Employees can still be late to meetings when they are held over Zoom. In fact, being late to a Zoom meeting end up costing your company money. This is because when people are late to a Zoom meeting, they not only delay the start of the meeting for everyone else, but they also take up valuable time that could have been used for other productive tasks. It's also common meetings to run late if they started late.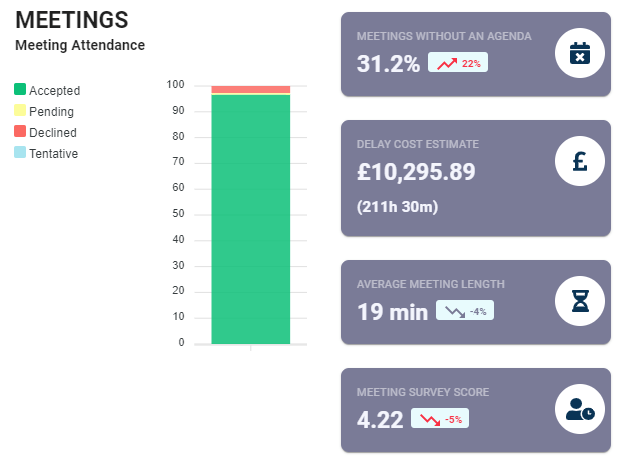 Meeting Cost Delay Estimate of an example startup (~15 employees)
The cost of meeting delays can add up quickly, especially if you have a large team. If each person is 5 minutes late to a meeting, 5 times a week that can lead to: => 25 minutes * 45 = 1125 minutes/year (45=working weeks).
If you have a team of 20 people, with an average salary of £45,000 per year, that's £286 wasted every week, or £12,870 over the course of a year.
If you have a team of 50 people, with an average salary of £45,000 per year, that's £715 wasted every week, or £32,175 over the course of a year.
How to Fix Punctuality Issues in Zoom Meetings
If you have identified issues with punctuality for your Zoom meetings, you should take the necessary steps to fix them. The first step is to make sure that everyone on your team is aware of the importance of being on time for meetings.
Using Flowtrace, team members can see their punctuality score with a visual star rating reference. This rating is available only to them to maintain privacy. The tool will also give a breakdown of how many times they are late and how often it has happened in a 90-day period. They can use punctuality scorecards to track their attendance and identify patterns, as well as particular meetings which are consistently late.
Gamification can play a huge role in improving these metrics with minimal managerial impact. The team members will be responsible for improving their own metrics and strive to achieve better without the need for any input from management. We tend to see the biggest offenders (managers, we are talking to you) achieving the fastest improvements just by showing them their punctuality rating.
This kind of positive reinforcement, where reward is given regularly for those who attend meetings on time, after accumulating a certain score improvement, can improve team's overall punctuality, motivation, and the flow of meetings. Sharing personal punctuality scores require trust between the team member, and their manager which is considered to be part of a good culture.
To push this even further, the same gamification process can be used on a team level. By collating scores as a team, individual members will be more motivated to support their team, thus increasing their own punctuality ratings even more so.

To enable self-fixing of this problem even further, Flowtrace actually breaks down lateness to three different time-frames. This allows users to understand if they are excessively late due to bad organisation or other issues, or slightly late due to bad time management.
Meeting Punctuality Doesn't Cost Anything
It's important to remember that being punctual for Zoom meetings doesn't cost anything. In fact, it saves your company money in the long run. Showing up on time for a meeting is a sign of respect for other peoples' time and ensures a positive collaboration culture.
If you have issues with punctuality, make sure to address them head-on so you can improve your team's meeting attendance and avoid wasting time. Get started for free with Flowtrace and start taking the steps to save your company money and improve the meeting culture.