Meetings
How to Conduct a Calendar Audit
Calendar audit is a process which creates an understanding of company's meetings and reveals how the time is spent across topics, teams, and meeting types.
---
You have been asked to conduct a Calendar audit?
Meetings are a fact of life for every company, and no matter how well-managed they are, there can be too many or too few. In this post, we'll show you how to conduct a calendar audit to determine if your meetings have the right mix of participants and topics.
As well as showing the steps to do a calendar audit, we also demonstrate what automated calendar audit sofware can do for you. Tools like Flowtrace surface all the metrics you and your team needs to improve company' meeting culture in real time.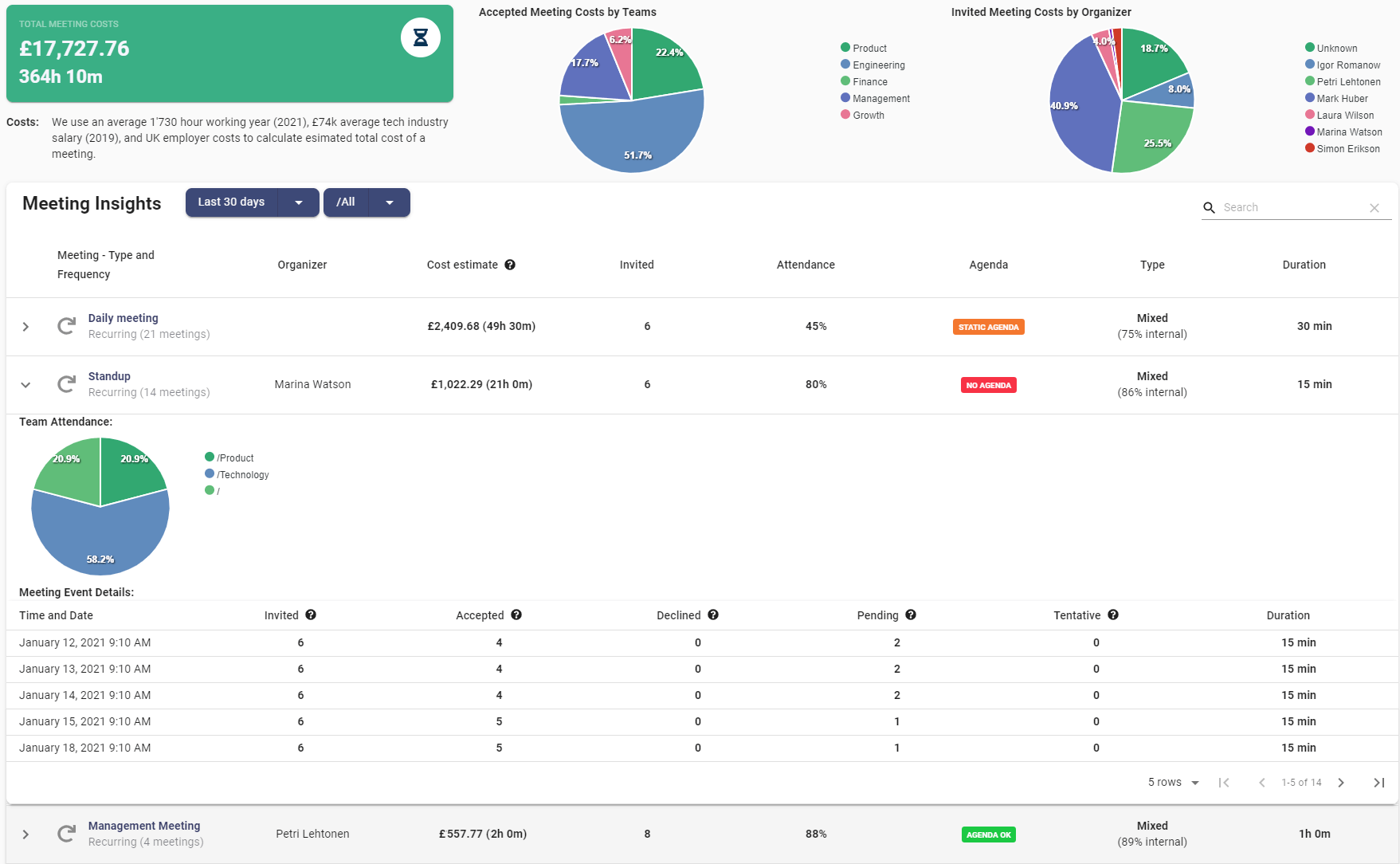 Step 1: List Meetings on Your Company Calendar
List all of your company's meetings on a spreadsheet, focus on meetings with more than 1 participant. Identify if the meeting is internal, or external.

Use the public calendars for each department, such as Sales or Marketing to categorize which team these belong.

Use the team's shared calendar by going to Google Calendar, and get the attendees for recurring, and one-off meetings.
Step 2: Categorize Meetings
Now that you've quantified the number of meetings on your calendar, it's time to categorize them by purpose. This will help you determine the types of meetings that are taking up most of your time and energy.
You can also choose to categorize meetings based on teams or departments. For example, if you're in sales at a tech company, it might be useful to separate out all sales-related meetings from other team gatherings like product development or marketing sessions.
Step 3: Evaluate
Now that you have a better understanding of your meeting data, it's time to evaluate it. First, consider how many meetings you're having and who is attending them. Do these numbers look about right? If not, commit yourself to making changes by doing one or more of the following:
Decreasing the number of meetings per month

Increasing or decreasing the number of attendees at each meeting

Changing meeting days and times (if possible)
Alternative: Automated Calendar Audit by Flowtrace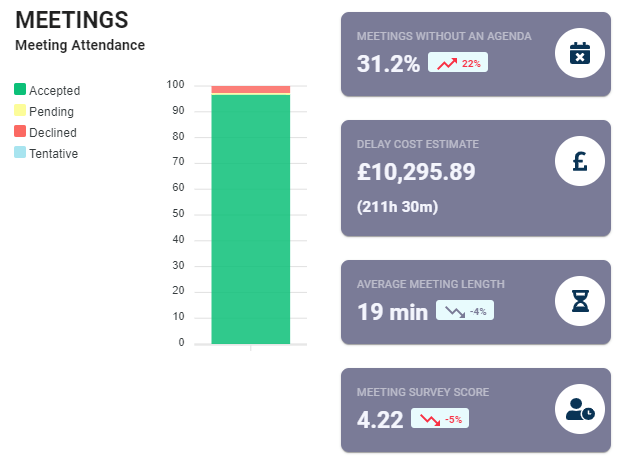 You can save a lot of manual time by using Flowtrace to audit your company's calendars. Flowtrace is a calendar audit tool that automatically analyzes meeting duration, participation, categorizes and shows you the most expensive meetings of the company. We also provide toolkit for your employees to rate the meetings they attend, or ask feedback from meetings they organize.
We surface metrics like:
Agenda(less) meetings

Meeting cost estimates

Meetings with punctuality issues

Internal and external meetings

Multitasking in meetings

Trends across the teams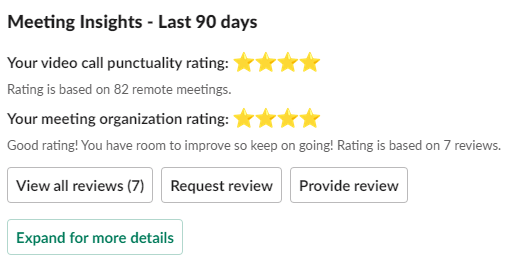 Use the output for decision-making
You can use the output of your calendar audit to make decisions about your meeting culture going forward.
Is your meeting culture aligned with your business goals? If not, where does it need to be adjusted?

Are you spending time on the right things in the right way? Are there opportunities for improvement in how you use your time that will help you accomplish more with less effort or stress?
Conclusion
In this blog post, we've looked at how to use your company calendar for a calendar audit. We've shown you how the process works and given examples of how we can transform your data into insights that will help make decisions.
Alternatively, you can consider using automated calendar management metrics using Flowtrace. Check out our plans for the best suited features for you from our pricing page: